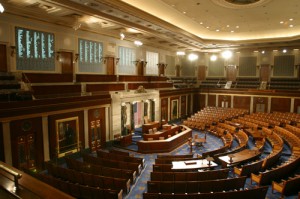 Washington, DC — Today, the US House adjourned "sine die" leaving H.Res. 252, the Armenian Genocide Resolution, as unfinished business.
In the waning days of the 111th Congress after the renewed push for passage of the bill was made public, opposition mounted from the Turkish lobby, and included a letter from Turkish Prime Minister Erdogan to President Barack Obama warning of consequences should the resolution be brought to the floor. The letter follows a call from President Obama to Erdogan earlier this month after information critical of the Turkish leadership was released by WikiLeaks.
Also, concerns arose over comments made by President Obama in an interview with Turkish daily Hurriyet on Sunday, when the president said that America's relationship with Turkey "is more important than ever". Obama went on to say that the US embraces Turkey within its fold of allies, despite Washington-Ankara differences on key Middle East issues, including Turkey's fellowship with Iran and its contention with Israel.
Yesterday, after the House approved a bill to keep the government funded through March 4th of next year, some 100 Members headed home for Christmas and the holidays, further complicating the prospects for a vote. At the same time, Turkey was leveraging its influence on the Hill as it negotiated a possible multi-billion dollar arms deal with an American defense firm.
On Tuesday, patrons of the resolution (which has 140 cosigners) – representing districts with considerable Armenian-American voters – sent a letter to their congressional colleagues, urging to pass H Res. 252.
"In adopting this measure, the U.S. House will be acting in accord with our long and proud tradition of condemning and commemorating genocides, including, of course, House resolutions on the Holocaust, and also the Ukraine, Cambodia, Rwanda, Bosnia, and Darfur genocides. In each of these cases, Congress did not legislate history, but reaffirmed our nation's moral stand against all genocides," stated the letter.
A counter letter was sent to Pelosi by congresspersons who oppose 252, citing national interests:
"In what may be the last day of the 111th session of Congress, bringing up H. Res. 252 would run counter to U.S. interests. The resolution also has the potential to undermine our national security interests throughout the Caucasus, Balkans, Middle East and Central Asia."
Rep. Adam Schiff (D-CA) who introduced H.Res 252 released the following statement:
"For the past several weeks, several of my colleagues and I have been engaged in a full-press effort to secure Floor consideration and passage of H. Res. 252, the Armenian Genocide Resolution. We believed that Turkey's burgeoning alliance with Iran, its support for Hamas, and its insincere promise to seek reconciliation with modern Armenia would finally serve to offset Turkey's shameful campaign of denial.
"I am deeply disappointed that the Congress has now recessed without passing the resolution to honor the 1.5 million Armenian men, women and children who were lost in the first genocide of the Twentieth Century, and I know that my feelings are insignificant when compared to the continued pain of so many in our community.
"To my many thousands of Armenian-American constituents and friends, I pledge to you that I will continue to press for recognition of the Armenian Genocide until the memory of those who perished from 1915-23 is formally and forever preserved in our national consciousness."