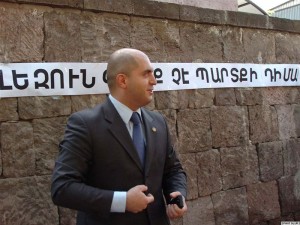 YEREVAN — The National Assembly adopted in the final reading on Wednesday a controversial government bill allowing the existence of a limited number of foreign-language schools in Armenia.
The bill involving amendments to two Armenian laws met with fierce resistance from opposition and civic groups as well as prominent public figures after being unveiled by the government in May. Critics believe that it would jeopardize Armenian's constitutionally guaranteed status as the country's sole official language.
The outcry led the government to water down the proposed amendments before pushing them through parliament in the first reading in June. In particular, the government agreed to restrict to two the number of foreign-language private schools that would be allowed to operate in the country.
The altered bill also stipulates that up to nine foreign-language high schools can be opened elsewhere in Armenia in accordance with inter-governmental agreements signed on a case-by-case basis.
The changes failed to satisfy the critics, who have staged street protests outside the parliament and government buildings in Yerevan. They have vowed more protests and legal action against the bill.