YEREVAN — Armenia officially acknowledged on Monday that its armed forces are equipped with Russian-made surface-to-air missiles widely regarded as one of the world's most potent anti-aircraft weapons.
The Defense Ministry in Yerevan said Defense Minister Seyran Ohanian visited one of the Armenian army's anti-aircraft units and "familiarized himself with the work of the state-of-the-art S-300 air-defense systems" over the weekend. A ministry statement said he also inspected new facilities built there.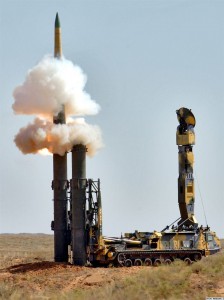 Originally designed in the Soviet Union in the late 1970s and repeatedly upgraded since then, the systems have a firing range of up to 200 kilometers. Their radars can simultaneously track up to 100 targets, including both aircraft and cruise missiles.
Russia deployed at least one battery of S-300s in Armenia in the late 1990s, significantly beefing up its military base stationed there. Russian and Armenian forces have since been jointly protecting Armenia's airspace. Their integrated air-defense system was given a "regional" status by the Russian-led Collective Security Treaty Organization (CSTO) in early 2007.
Top Russian military officials said at the time that Moscow has further upgraded Armenia's anti-aircraft capacity and trained Armenian specialists to operate S-300s. The Armenian military confirmed that, saying the training process began in 2005. It would not clarify until now whether the Russians have actually transferred such weapons to their Armenian ally.
Speaking to RFE/RL's Armenian service, Defense Ministry spokesman Davit Karapetian confirmed that the Armenian army now has S-300s in its missile arsenal. He declined to specify their number and dates of delivery.
According to the Defense Ministry statement, Ohanian inspected the Armenian S-300s after inaugurating a new Russian-Armenian "air-defense command point" possessing "state-of-the-art equipment." The statement quoted him as saying that the development raised Russian-Armenian military cooperation to a "qualitatively new plane."
The announcement follows media reports that Moscow is planning to sell two batteries of S-300 to Azerbaijan, in a deal worth $300 million. The reports, not denied by Russian officials, have raised concern in Armenia and Karabakh.