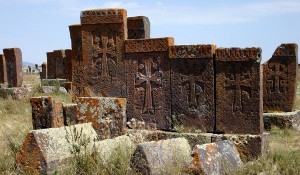 NAIROBI, KENYA — A United Nations agency advancing international collaboration through education, science and culture has accepted Armenia's application to declare Armenian khachkar (cross-stone) art part of intangible cultural heritage of humanity.
With the inscription of the "Armenian cross-stones art: Symbolism and craftsmanship of Khachkars," presented by Armenia, the Intergovernmental Committee for the Safeguarding of the Intangible Cultural Heritage has completed the examination of 47 nominations presented by 29 countries for inscription on the Representative List of the Intangible Cultural Heritage of Humanity.. It now includes 213 inscribed elements.
Even though the Azerbaijani side made a claim that the name of the application be changed to "Symbolism and Craftsmanship of Armenian Khachkars", explaining that khachkar craftsmanship is not only Armenians'. However, as a result of long discussions the Intergovernmental Committee did not accept the Azerbaijani side's claim.
Khachkars are outdoor steles carved from stone by craftspeople in Armenia and communities in the Armenian diaspora. They act as a focal point for worship, as memorial stones and as relics facilitating communication between the secular and divine. Khachkars reach 1.5 metres in height, and have an ornamentally carved cross in the middle, resting on the symbol of a sun or wheel of eternity, accompanied by vegetative-geometric motifs, carvings of saints and animals. Khachkars are created usually using local stone and carved using chisel, die, sharp pens and hammers. The carvings are then ground using fine sand. Small breaks and rough surfaces are eliminated by plaster of clay or lime, and then painted.
Once finished, the Khachkar is erected during a small religious ceremony. After being blessed and anointed, the Khachkar is believed to possess holy powers and can provide help, protection, victory, long life, remembrance and mediation towards salvation of the soul.
The Aalst Carnival in Belgium, the Beijing Opera, the Spanish Flamenco, the Wayuu normative system in Colombia, the traditional skills of carpet weaving in Kashan in Iran, and falconry, presented by 11 countries, are among the 46 inscribed Tuesday.