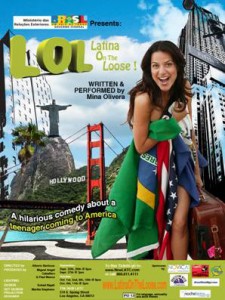 The award winning comedy "LOL! Latina on the Loose," following a successful fall engagement has returned to the Los Angeles Theatre Center for a limited time performance.
"LOL! Latina on the Loose," is written and performed by Mina Olivera (Milena Nercessian). Born into a Brazilian family (with one Armenian grandfather, and very Armenian at that), Mina's home life is unconventional. Her father, a film maker, is a sometimes house-husband, cooking and cleaning; Her mother is a U.N. human rights officer whose work takes her to different parts of the globe. Mina spends part of her formative years in Switzerland and in El Salvador (where her mother in her official capacity does important work in the settlement of that nation's civil war) performing on stage with the top theatre companies in El Salvador.
Having made her professional theater debut at the age of 13, she pursues a dream to enter the UCLA Theatre School over the objections of a racist counselor who advises her to instead study home economics. Graduating at the top of her class at UCLA, she actively pursues film work in Hollywood. Mina landed recurring roles on the TV series "Freddie" and "Reno 911!" She appeared in the movie "Shrink" starring Kevin Spacey and Robin Williams, and will soon appear in the independent film "On The Run," directed by Alberto Barboza. Locally, she has performed with the Latino Theater Company Lab and with the Edgemar Theatre Company. She is the co-founder of Novica.com, a company associated with National Geographic that assists traditional artisans from developing countries in reaching the world market.
In "LOL! Latina on the Loose," the versatile Ms.Olivera portrays an entire gallery of characters, female and male, including family members, boyfriends, a psychic fortune teller, the racist counselor, a Latina friend who turns out to be a coconut (brown on the outside, white on the inside), and many more. It's a solo performance, augmented with multimedia and live music performed by legendary Brazilian percussionist Carlinhos Pandeiro de Ouro.
"LOL! Latina on the Loose," is directed by Alberto Barboza and produced by Miguel Angel Caballero and Krystle Gomes. This production has been supported in part by a grant from the Brazilian General Consulate. "LOL! Latina on the Loose" received several awards, including the "Best Comedic Theatrical Performance of the Year" by the Brazilian International Press Awards.
"LOL! Latina on the Loose," will play at the Los Angeles Theatre Center, 514 S. Spring St., Los Angeles, CA 90013., November 19 -20, 2010, Fri. & Sat. at 8:30 p.m. www.thelatc.org.