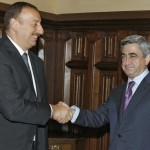 The leaders of Armenia and Azerbaijan are scheduled to hold another meeting to be hosted by their Russian counterpart next week amid intensified armed clashes around Nagorno-Karabakh.
Serzh Sarkisian and Ilham Aliyev will continue negotiations on resolution of the Karabakh conflict during their meeting hosted by Dmitry Medvedev, in the southern Russian city of Astrakhan on October 27.
The last time Medvedev hosted a meeting between Sarkisian and Aliyev was on June 17. Within just over 24 hours after that meeting a major ceasefire violation occurred on the line of contact of Azeri and Karabakh-Armenian armed forces, with four Armenian and one Azerbaijani soldiers reportedly killed in the firefight.
The situation around Karabakh has remained volatile since that incident, with skirmishes reported virtually every day. Both sides have suffered more than a dozen confirmed military casualties in recent months.