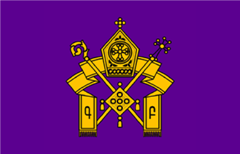 The Mother See of Holy Etchmiadzin, has declared an Islamic prayer service ("namaz") held in the Armenian cathedral of Ani, in present-day Turkey, a "political provocation", calling it a serious blow to efforts to improve Turkish-Armenian relations.
In a written statement, the Mother See strongly condemned the Turkish government for allowing the country's leading ultranationalist party to hold a Friday prayer at the 11th century Holly Virgin Cathedral in Ani, the ruined capital of a medieval Armenian kingdom.
"This action is a political provocation that has nothing to do with spiritual-virtuous feelings and religious freedom and rights," read the statement. "At the same time it is an attempt to negate the Armenian origin of the Ani cathedral, which was deprived of prayer as a consequence of the [1915] Armenian Genocide."
"It is also absolutely unacceptable to make a Christian shrine available for 'namaz' (Muslim prayer) while consistently forbidding legal heirs to the Christian heritage [in Turkey] to perform worship in their own temples," it said. "Thus, the Turkish authorities are continuing their steps aimed at destroying Armenian monuments and misappropriating historical Armenian holy sites and cultural treasures."
"It is also evident that with this step Turkey is once again scuttling efforts by Armenia and the international community to establish Turkish-Armenian dialogue and normalize Turkish-Armenian relations," added the statement.
Artak Shakaryan, specialist in Turkish studies, believes that the namaz in Ani is a domestic ploy, aiming to gain the electorate's sympathy. The installation of the cross at Holy Cross, he says, is meant to make Turkey appear more democratic in the eyes of the European Union, to which it seeks membership.