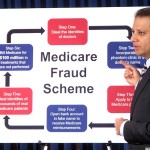 Law-enforcement authorities in Armenia said on Friday that they have not yet been contacted by U.S. federal investigators in connection with the arrests of Armenian-born Americans accused of large-scale medical insurance fraud.
U.S. officials have said that Armenian nationals are among 44 members of an Armenian-American criminal syndicate that allegedly filed some $100 million in fake claims to a government health insurance program. They say some of the suspects regularly traveled to Armenia , had criminal connections there and transferred criminal proceeds to the country.
The Armenian Foreign Ministry on Thursday expressed "regret" at this fact and said the authorities in Yerevan are "ready to cooperate with their American colleagues in order to assist in the inquiry."
Armenia's Office of the Prosecutor-General reaffirmed this pledge the next day. A spokeswoman for the law-enforcement agency, Sona Truzian, said it has so far received no inquiries or cooperation requests from U.S. prosecutors handling the case.
"The Office of the Prosecutor-General has not received any official information," Truzian told RFE/RL's Armenian service. "We think that if need be, our American colleagues will approach us with a relevant inquiry or give us information."
"We are ready to cooperate and assist them in solving the crime. Especially given that we have some experience of joint work on solving such crimes," she said.
Armen Kazarian, an Armenian-born man, is identified as the principal ringleader in the alleged insurance scam. The lead prosecutor in the case, Preet Bharara, has referred to him as a "vor v zakone," or a thief in law – a Russian term for powerful figures in the criminal underworld of the former Soviet Union.
Kazarian was known in Armenia as a crime figure nicknamed "Pzo." According to the Armenian police, he had no formal criminal record in the country before emigrating to the United States in 1996. A police spokesman also told RFE/RL's Armenian service that the 46-year-old is now a U.S. citizen.
"Pzo has never had the status of a thief in law," insisted Sergey Galoyan, a Yerevan-based author of several books on Soviet and post-Soviet organized crime.
"Pzo was a very minor figure in the underworld. He was a petty thief," Galoyan told RFE/RL.