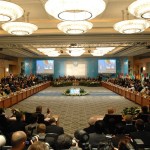 NEW YORK — The Organization of the Islamic Conference (OIC) has accused Armenia of unleashing aggression against Azerbaijan and described Nagorno-Karabakh as an "occupied" Azerbaijani territory at an annual meeting of the foreign ministers of its predominantly Muslim member states.
They met on the sidelines of the UN General Assembly in New York on Friday.
"The Meeting condemned the aggression of Armenia against Azerbaijan and called for the resolution of the conflict on the basis of respect for the territorial integrity and inviolability of the internationally recognized borders of the Republic of Azerbaijan," read an OIC communiqué issued on Saturday.
It said the ministers expressed serious concern about "forced demographic changes, interference with property rights, inadequate protection of the cultural heritage and sacred sites in the Nagorno-Karabakh region and other occupied territories of Azerbaijan."
It was not clear whether all 57 countries making up the Islamic grouping signed the latest statement or agreed with its evaluation of the Karabakh conflict. The New York meeting was chaired by Tajikistan's Foreign Minister Hamrokhon Zarifi.
Tajikistan and three other OIC countries — Kazakhstan, Kyrgyzstan and Uzbekistan — are aligned with the Collective Treaty Security Organization (CSTO), a Russian-led military alliance of seven former Soviet republics, including Armenia. None of these Central Asian states is known to have raised the Karabakh issue within the CSTO framework.
Neighboring Iran is another, more important OIC member. The unresolved Karabakh dispute has not prevented the Islamic Republic from steadily deepening its political and especially economic ties with Christian Armenia.
The OIC has issued similar statements in the past, and they rarely prompted an official reaction from Yerevan. Armenian leaders have said only that religion has never been a serious factor behind the unresolved conflict and that Azerbaijani of exploiting Islam to muster greater international support.