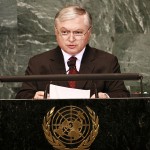 NEW YORK — Addressing the UN General Assembly on Saturday September 25th, Armenian Foreign Minister Edward Nalbandian accused Azerbaijan of seeking to "distort the nature of the conflict in various international platforms" and torpedo peace talks mediated by the United States, Russia and France. "That country is attempting to mislead the international community, presenting the consequences of the conflict as its causes," Nalbandian charged.
"The people of Nagorno-Karabakh exercised their right to self-determination two decades ago," he said. "They fought for their right to freedom, withstanding the brutal war unleashed by Azerbaijan that was suppressing them for 70 years and attempting to cleanse them from their ancestral home."
Nalbandian also accused Azerbaijan of using its oil wealth to fuel "military adventure" amid mounting tensions in the Nagorno-Karabakh region. Nalbandian added that "Azerbaijan represents a threat to regional peace and security."
"Unabated war rhetoric, increased violations of the ceasefire regime, and the unprecedented increase of the military budget by Azerbaijan only exacerbates the situation," the minister said. "The money stemming from oil revenues is directed at funding new military adventures. We all know the results of such adventurism."
Nalbandyan's speech at the UN was a response to Azerbaijani President Ilham Aliyev's speech earlier last week. Last Thursday Aliyev accused Armenia of "giving preference to escalation with unpredictable consequences" in the Karabakh dispute, of "ethnic cleansing" on the territory of Nagorno-Karabakh and violation of international law.