KORNIDZOR (Armenpress) – The representatives of the UN office in Armenia visited the border section of Kornidzor on Thursday, where the entrance to the Lachin Corridor remains blocked for the ninth day as a convoy of trucks attempts to transport humanitarian aid from Armenia to Nagorno-Karabakh.
On August 2, candy-producer Grand Candy sent two trucks loaded with confectionaries to join the 19 trucks in the convoy.
The representatives of the UN office in Armenia were briefed on the situation on the ground. Following this, Nanna Skau, the acting resident coordinator of the UN in Armenia, gave a short press briefing. During the briefing, she first read the latest statement from UN Secretary-General António Guterres regarding the humanitarian crisis in Nagorno-Karabakh resulting from the blockade of the Lachin Corridor.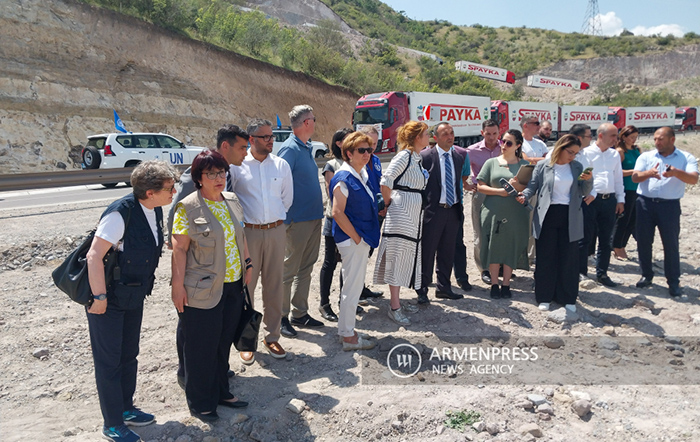 "Unfortunately, at this point, I cannot go beyond the statement," Nanna Skau said. "We do expect the issued statement will hopefully lead to some positive results," she added.
The Lachin Corridor, the only road connecting Nagorno-Karabakh to Armenia and the rest of the world, has been blocked by Azerbaijan since late 2022. This Azerbaijani blockade constitutes a gross violation of the 2020 Nagorno-Karabakh ceasefire agreement, which established that the 5km-wide Lachin Corridor should be under the control of Russian peacekeepers. Furthermore, on February 22, 2023, the United Nations' highest court, the International Court of Justice (ICJ), ordered Azerbaijan to "take all steps at its disposal" to ensure unimpeded movement of persons, vehicles, and cargo along the Lachin Corridor in both directions. Azerbaijan has been ignoring the order ever since. The ICJ reaffirmed its order on July 6, 2023.