By PHYLLIS DOHANIAN
As children we were often asked what we wanted to be when we grew up. The answers usually spread across a wide range of fantasies – the president, a princess, or even an astronaut.
Fortunately for the Armenian community, one young man in Pawtucket, Rhode Island dreamed a very different dream. Observing his parents' words and many selfless deeds reaching out to care for the needy, Edward Avedisian embarked upon a lifetime of helping others. Through many years of helping his own community, Ed developed a vision of how best to impact the well-being of Armenians into an action plan which would play a pivotal role for the future of Armenia. By providing the poorest and most deprived of children in Yerevan with the highest quality education from pre-kindergarten through secondary school at no cost, Ed wished to empower them to lift themselves to a level where they could not only obtain a good job, but also raise their own families within Armenia, assist other neighbors in need, and uplift their community and country.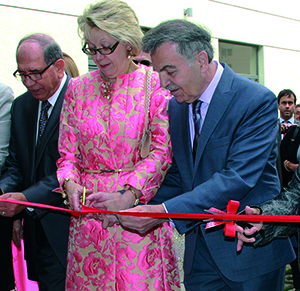 A drafty and derelict building in Yerevan was the perfect place for Ed and his wife Pamela to make his dream a reality. In Melanya Geghamyan, principal of the Avedisian School from its inception, he found the perfect partner. Melanya listened as Ed told anyone who was within earshot that a true Armenian patriot should see the future of Armenia in an educated generation and should give the nation educated children. Melanya worked diligently day and night to make this shared mantra a reality.
Beginning in 1999 with kindergarten, adding one grade with each successive year with a middle school and a high school to follow and then, in conjunction with AUA, a university education for those eager children with the drive and skills to work hard to capture the future, the Khoren and Shooshanig Avedisian School came to be.
Providing the highest quality education to these young people was only one part of Ed's vision. Ed's dream also included working tirelessly to build the first LEED building in Armenia, introducing a more ecologically sound construction standard by finding and educating Armenia's construction leaders as they built a facility with significantly reduced operating costs. The Avedisian School continues its growth with a greenhouse, each of which provides a strong future for Armenia.
Ed walked the school grounds, listened to the teachers, met with the students, and observed the needs of the community and Armenia on every visit. Quietly, humbly, but tenaciously, Ed continued to expand upon his original vision, considering what the next project should be to continue addressing vital needs of Armenia and be an inspiration for young people currently pondering what their own dreams will be for the benefit of all Armenians.
Armenian Evangelicals have a long tradition supporting education. In our historic Homeland, in the Near East, wherever our ancestors settled in Diaspora, we have planted schools near our churches to help our Armenian community grow ever stronger which has proved to be a blessing to us all.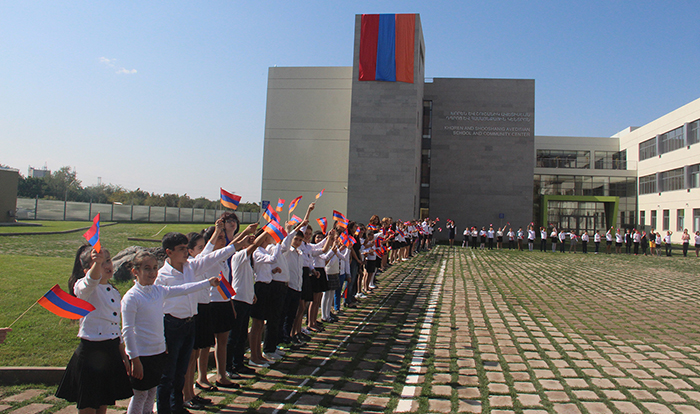 Speaking at the Avedisian School graduation this June, Pamela Avedisian reminded the graduates, their families and all the students and teachers present of the pride she and Ed shared in celebrating the personal successes of each Avedisian student and graduate. "It is deeply gratifying knowing all Ed and I have contributed has impacted the lives of so many…, and our projects will further impact Armenia for decades to come. I hope that all of you get to the point where you can give back, as enriching the lives of others is what it is all about."
Together we have rejoiced with Ed and Pamela in each success of the Avedisian School. Today we share the opportunity of fulfilling the last stage of Ed Avedisian's dream, that we honor his memory and vision by continuing to support the Avedisian School so it may continue to be a beacon of exceptional education serving the needs of our children and Armenia.
Berj Karazian, a distinguished and Honored Artist of Armenia, a major Soloist of the Yerevan National Academic Opera and Ballet Theater will perform the musical selections during the Banquet. This celebrated outstanding tenor, Karazian, has performed all over the world in famous concert halls of more than 25 countries. Karazian will be accompanied by Soprano Armine Vardanyan, an esteemed artist who recently had her debut in Carnegie Hall, and in the Opera Magic Flute as the Queen of Night in Opera America of New York.
Please join me in celebrating Armenian Evangelical Education at the AMAA's Annual Banquet on October 21st at the San Francisco Airport Marriott Waterfront in San Francisco, CA. For more information you may visit the AMAA website at amaa.org