STEPANAKERT (Armradio) — On July 29, the President of the Republic of Artsakh, Arayik Harutyunyan, sent a letter to Luis Moreno Ocampo, a leading specialist in international law, former chief prosecutor of the International Criminal Court (2003-2012) and lecturer at Harvard and Yale universities, asking for an expert opinion on whether the deepening blockade of Artsakh corresponds to the crime of genocide.
"As the President of the Republic of Artsakh (Nagorno-Karabakh), I request your expert opinion regarding the current situation of 120,000 Armenians of Nagorno-Karabakh. We considered that your practice as the founder Chief Prosecutor of the International Criminal Court (2003-2012), particularly your request to issue an arrest warrant for Genocide against the President of Sudan, would be relevant to provide us with the information required.
We need your opinion on three questions:
a) Could it be considered that the blockade of our people by Azerbaijan since December 12, 2022, and especially the blockage of all kind of humanitarian assistance to Nagorno-Karabakh implemented since June 15, 2023, constitutes the crime of genocide?
b) Has the International Criminal Court jurisdiction on the matter?
c) Who could be personally responsible? Please consider this as an urgent request, given the deteriorating humanitarian and security situation in my country with daily basis and growing sufferings of my people. I am attaching a report providing relevant information," the letter reads.
Luis Moreno Ocampo responded to Harutyunyans request by publishing several tweets announcing his willingness to help Artsakh.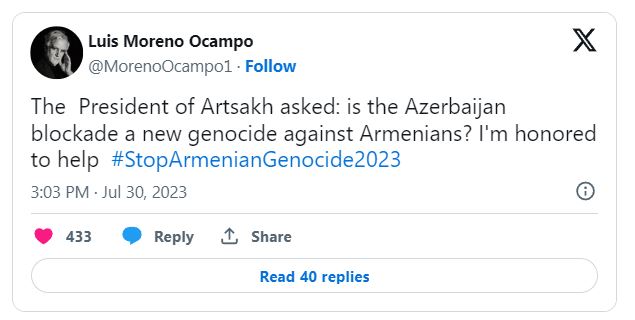 Luis Moreno Ocampo noted that it is a great honor for him to help the Armenians of Artsakh.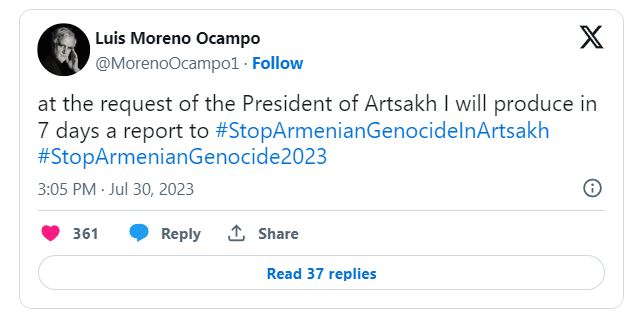 He also intends to publish a report on Ilham Aliyev's actions against Artsakh within a week at the request of the Artsakh's President.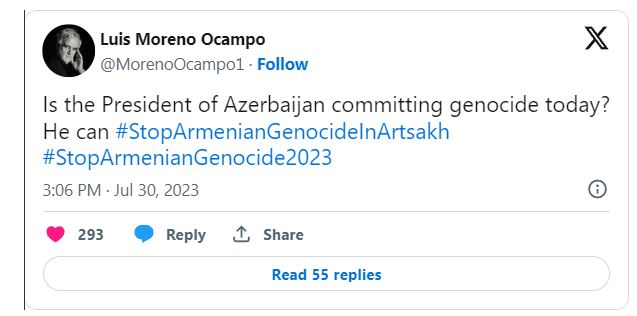 Is the President of Azerbaijan committing genocide today? He can prevent the genocide in Artsakh and Armenia," he wrote with the hashtags #StopArmenianGenocideInArtsakh #StopArmenianGenocide2023.