YEREVAN — Armenia's economic activity in the first 5 months of 2023 grew by 12.5% compared to January-May 2022, the National Statistical Committee (NSC) said today.
It said the growth in May 2023 compared to the previous month of April was 7.7% and 13.7% as opposed to May last year.
According to the official data, all sectors of the economy saw growth. except for electricity production and prices of industrial goods.
In the reporting period, industrial output amounted to about 952.6 billion drams, an increase of 3% compared to January-May 2022. At that, a 5.3% growth was registered in May as compared to May of the previous year.
The construction sector surged by 16.7% to about 131.1 billion drams. The 12-month growth in May 2023 was 18.4%.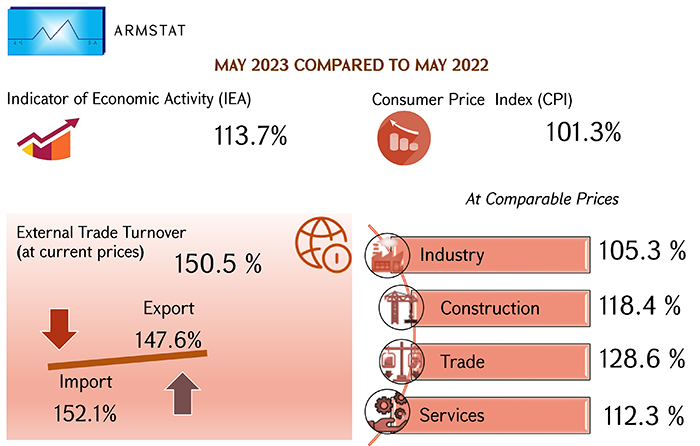 According to the statistical data, in January-May, the domestic trade turnover grew to over 1.8 trillion drams, a 24.5% rise compared to the same time span in 2023. .The 12-month growth in May 2023 was 28.6%. The services (excluding trade) upped by almost 20% year-on-year to about 1.2 trillion drams.
The National Statistical Committee did not provide data on gross agricultural production and gross average monthly wages.
Armenia's government growth projection for 2023 is set at 7%, and inflation is set at 4% (±1.5%). The European Bank for Reconstruction and Development (EBRD) expects Armenia's economy to grow by 4% in 2023 and by 4.8% in 2024.
The Asian Development bank said Armenia's economic growth will slow down to 6.5% in 2023 and to 5.5% in 2024 depending on domestic and external demand and the International Monetary Fund (IMF) said in its latest World Economic Outlook report for April 2023 that it expects Armenia's economy to grow by 5.5% in 2023.