YEREVAN —  On May 24, The American University of Armenia (AUA) hosted a distinguished panel of journalists and media experts at an open forum on the future of international journalism at a time of massive digital disruption for the news business. The panel featured four renowned journalists and industry leaders, including Lara Setrakian, Maria Titizian, Robert Stewart, and Thomas Kent.
The event provided a unique opportunity for attendees to engage in a global discussion, which was moderated by Dan Perry, former Associated Press regional chief for Europe and Africa (based in London) and for the Middle East (based in Cairo) and currently managing partner at the New York-based Thunder 11 communications agency.
The presentations revolved around the rapidly changing global media landscape, examining, inter alia, the question of how small nations like Armenia can actively participate in the global conversation. Organized in collaboration with The Armenia Project (TAP) and Ohio University's E. W. Scripps School of Journalism, the discussion was informative and thought-provoking.
Prior to the gathering, AUA Chief Communications Officer Narek Ghazaryan took the guests on a campus tour, making a special stop at the USAID/ASHA-funded Media Lab, planned for a capital renovation that will avail students and other stakeholders resources aimed at developing communications and journalism competencies.
"It is such a pleasure for us to host these types of public conversations at AUA," Ghazaryan said. "Through the AUA Media Lab, we have really increased our capacity to create the right platform to engage in honest, dynamic, and informative discussions prominent in the media sector. We are pleased to partner with The Armenia Project and Ohio University's E. W. Scripps School of Journalism to continue organizing similar events in the future."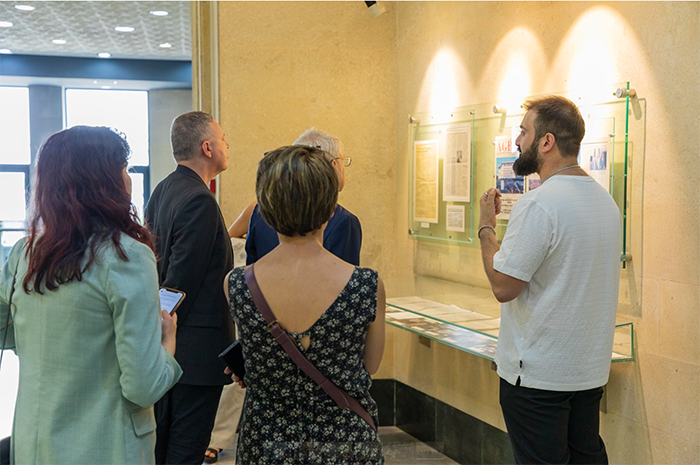 Perry kicked off the discussion by acknowledging that the digital revolution has badly disrupted the news media's business model and that there is tension between the need to interest audiences and the mission of covering important and sometimes complex events.
Kent, former international editor, ethics editor of the Associated Press, and former president of Radio Free Europe, said that new digital-friendly formats — including graphics and video — should enable serious journalism to be brought to younger audiences.
Dr. Stewart, former director of the Scripps School, noted that there is a redoubled push to compel audiences to pay for content — noting that his own New York Times subscriptions have recently grown vastly more expensive.
This led to a discussion on whether such practices might make the news inaccessible to some — creating a two-tier society.
Titizian, editor in chief of the Armenia-based, English-language EVN Report, and AUA lecturer argued that such publications could play a role in the international discourse, perhaps as partners to global media — and that there is an audience for serious, long-form journalism. Perry noted that such readers might be more willing to pay for access, creating a metric more relevant to business than mere traffic.
Setrakian, founder of the News Deeply journalism project and Armenia-based APRI (Applied Policy Research Institute think tank, underscored that for younger audiences, news organizations will need to capitalize on more short-form videos.
Perry, who served as foreign press association chairman in Jerusalem and is a columnist for Newsweek and other publications, touched upon other topics such as the advanced use of AI in journalism, distinguishing between local journalism and foreign correspondence, and the ethical perspective of trauma sensationalism.
Stewart said that he had used AI models but is fearful of their impact in the future. Kent noted that AI programs such as ChatGPT simply tap what is already available online, which not only leads to plagiarism but is unverifiable and lacks original reporting.
Setrakian, former foreign correspondent for ABC and other outlets, noted that sometimes reporters travel to a country for a few days to report on a situation with little context and then leave. Perry stated that foreign media are increasingly using local reporters.
All wrestled with the question of how coverage can be fair and how to interest the world media in Armenia — a scrappy young democracy that despite its distance from major capitals, has a major story to tell.
There was agreement that international audiences would be well served by correspondents who were sensitive to tragic situations, stayed longer on the ground, and showed compassion when listening to the local people and their stories.
Following a Q&A, the event concluded with closing statements from the panelists. Titizan declared, "Facebook is not a real news source," and Setrakian stated, "The quality of a piece should not be affected by the platform." Kent said the "brand" — despite the fashion of denigrating mainstream media — would remain important as an effective validator of the veracity of the content.