By Rev. Dr. Krikor Youmshajekian*
SYDNEY – The Armenian Missionary Association of Australia (AMA-Australia) held its 2023 Fundraising Banquet on March 26, at Miramare Gardens in Terry Hills. The annual event's primary purpose this year was to raise funds for various humanitarian projects in Artsakh.
AMA-Australia was honored to have esteemed guests, both Armenian and non-Armenian, including local officials and representatives from the Artsakh Republic at the event. Unfortunately, due to the ongoing Artsakh blockade, Mr. Davit Babayan, Advisor to the President of Artsakh Republic and former Minister of Foreign Affairs Mr. Artak Beglaryan, Adviser to the State Minister of the Artsakh Republic and former State Minister, were not able to attend. However, they sent pre-recorded video messages expressing their gratitude and support. Their heartfelt messages focused on the resilience of the Artsakh people, who have resolved to stay strong against all the hardships and challenges they are currently facing caused by the siege and ongoing blockade by Azerbaijan, and on the unwavering commitment of the AMA-Australia to help those in need. Mr. Beglaryan's message was congratulatory toward AMA-Australia, reiterating his and the Artsakh government's appreciation of the current and future work of the Association. Mr. Beglaryan also expressed his gratitude for the service of the Armenian Missionary Association of America (AMAA), as he was one of the beneficiaries of AMAA programs as a young boy.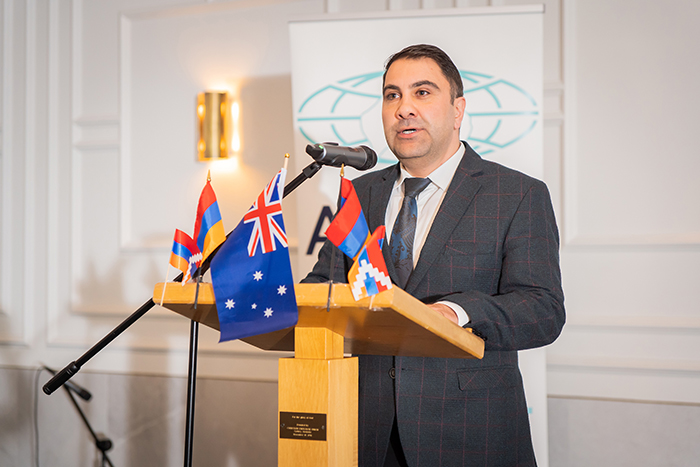 It was moving to have Viktor Karapetyan, AMAA's Representative in Artsakh, who made the challenging journey from Artsakh to Sydney. Mr. Karapetyan gave an insightful speech summarizing AMAA's services in Artsakh, the current situation regarding the blockade between the borders and the ongoing challenges faced by the people of Artsakh.
The evening began with the national anthems of Australia, Armenia, and Artsakh, followed by an opening prayer offered by Rev. Hagop Sarkissian, Minister of the Armenian Evangelical Church of Sydney. Masters of Ceremonies, Mrs. Laura Soghomonian and Dr. Elias Kehdi, ensured a smooth and enjoyable program, engaging the audience throughout the evening.
There was a congratulatory and well wishes pre-recorded video message from AMAA Executive Director/CEO Zaven Khanjian, as he couldn't attend the event in person. A special video presentation, prepared by Lori Youmshajekian, was also screened, summarizing, and depicting the 20 years of service of the AMA-Australia.
Entertainment included music by Hagop Harfoushian, who played various styles of music on the saxophone and Masha Mnjoyan, who performed a selection of beautiful Armenian songs, captivating the audience. The Sydney Armenian Dance Company (ASDC) presented two folkloric dances, with dancers wearing traditional outfits, creating a joyous atmosphere that resonated with everyone in attendance.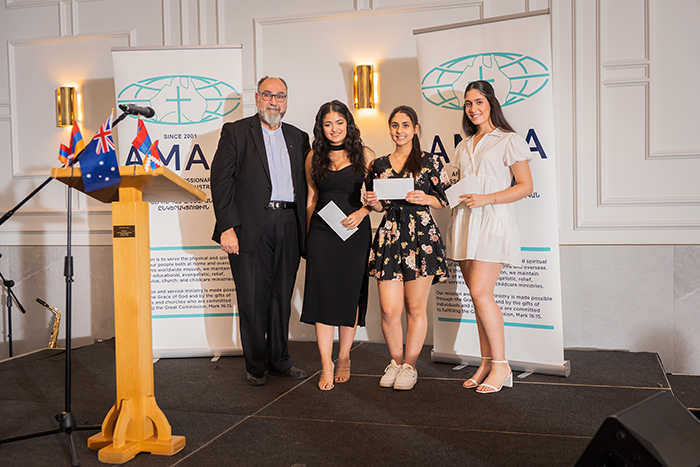 The event also featured the presentation of Armenian University Scholarships by AMA-Australia to two successful applicants, Serli Boujekian and Sebouh Tatossian, who each received $1,500. In addition, an essay contest for Hamazkaine Arshag and Sophy Galstaun College graduating class students showcased the talents of three finalists, who presented their theme and gave a glimpse of their 2,500-word essays on different Armenian topics. The judges awarded Varty Hamamjian the first-place prize of $1,500 for her essay "The Role of male and female figures in changing fixed mindsets about women's rights." Sosi Mikaelian's "The importance of speaking Armenian as a vital factor in maintaining identity" and Serli Boujekian's "The role of non-Armenian and Armenian figures in the pursuit of recognition of the Armenian Genocide," were each awarded equal second place prizes of $500, reflecting the exceptional quality of all submitted essays.
The much-anticipated raffle saw ten winners receiving valuable prizes, including a pair of diamond earrings graciously donated by Bond Street Jewellers – Keverian Brothers as first prize. Four gifts, specifically brought from Artsakh (a carpet, two paintings, and mulberry vodka), were also among the prizes. The special raffle of a diamond ring, also donated by Bond Street Jewellers, added excitement to the evening.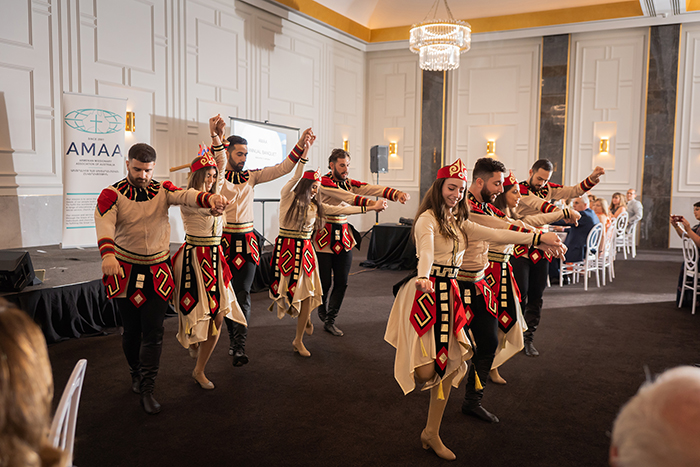 Thus far we successfully raised $115,000 for Artsakh humanitarian efforts. However, we are confident that soon we will meet the $150,000 target as more donations are coming in from those who were unable to join us for the event. Deepest gratitude to all sponsors, donors, and especially to the major benefactors, ASV – Soghomonian Brothers, for their generous support.
After brief closing remarks and expression of thanks to all who attended, as well as to the performers and volunteers, the banquet concluded with prayers offered by Monsignor Basil Sousanian, Head of the Armenian Catholic Church in Australia, Reverend Dr. Gaby Kobrossi, Minister of Bankstown District Uniting Church and Rev. Dr. Krikor Youmshajekian, President/CEO of AMA-Australia.
We thank God for the success of this event and continue to pray for the people of Artsakh as they face challenges, struggles, and hardships, enduring a blockade for over 110 days. May God bless and protect them.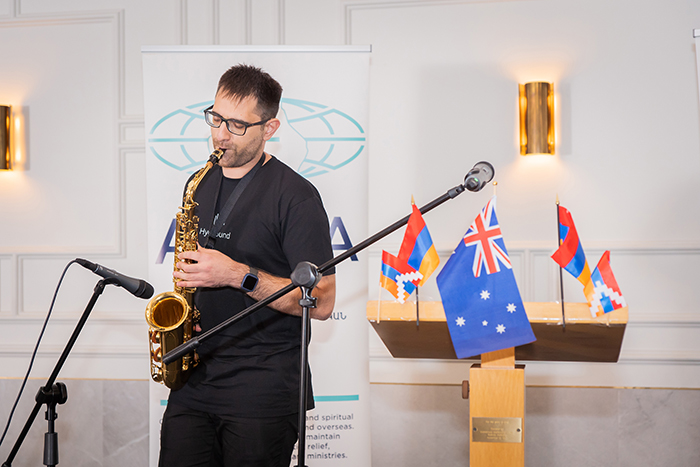 The annual AMA-Australia Fundraising Banquet was a memorable night of unity and support for the people of Artsakh. We are truly grateful to everyone who contributed to the success of this event. The ongoing support and generosity of our donors plays a vital role in our mission to provide humanitarian aid to those in need in Artsakh.
As we look forward to future endeavors, let us continue to work together as a community to ensure the welfare and prosperity of our brothers and sisters in Artsakh. Your unwavering commitment to the cause is greatly appreciated, and we remain dedicated to making a positive difference in the lives of those affected by the current situation in Artsakh.
*Rev. Dr. Krikor Youmshajekian is the President/CEO of AMA-Australia