YEREVAN — Armenia's top leadership, led by Prime Minister Nikol Pashinyan, visited today morning the Tsitsernakabert Genocide Memorial in the capital Yerevan to pay tribute to the victims of the Armenian Genocide.
The annual daylong procession began with an official wreath-laying ceremony at the hilltop memorial led by Pashinyan, Parliament Speaker Alen Simonyan and President Vahagn Khachaturyan.
"On April 24, we commemorate the 1.5 million victims of the Armenian Genocide carried out by the Ottoman Empire at the beginning of the 20th century, and tens of thousands of citizens will carry out a procession of respect, remembrance and meditation to the Tsitsernakaberd Memorial today.
"The April 24 procession is perhaps the most impactful occurrence that has predetermined and is predetermining our reality, an exceptional day to think about our history, past and future," Pashinyan said in a statement released on the occasion.
He stressed that only a "developed and sovereign state" can ensure the existence and security of the Armenian people. "And everyone has something to do for the establishment of the state – with education, work, civil responsibility and respect for law," Pashinyan said.
According to Pashinyan, Armenia's strategic choice for the region boils down to the following question: "Do we have the will and ability to normalize and develop our regional relations, regardless of the fact that, or even especially in the case when the existing security threats around us worsen due to regional or extra-regional reasons?"
"Realizing all the difficulties and complications, our government has decided to go the way of finding a positive answer to that question, because only that way can guarantee security and well-being," the Armenian premier underscored.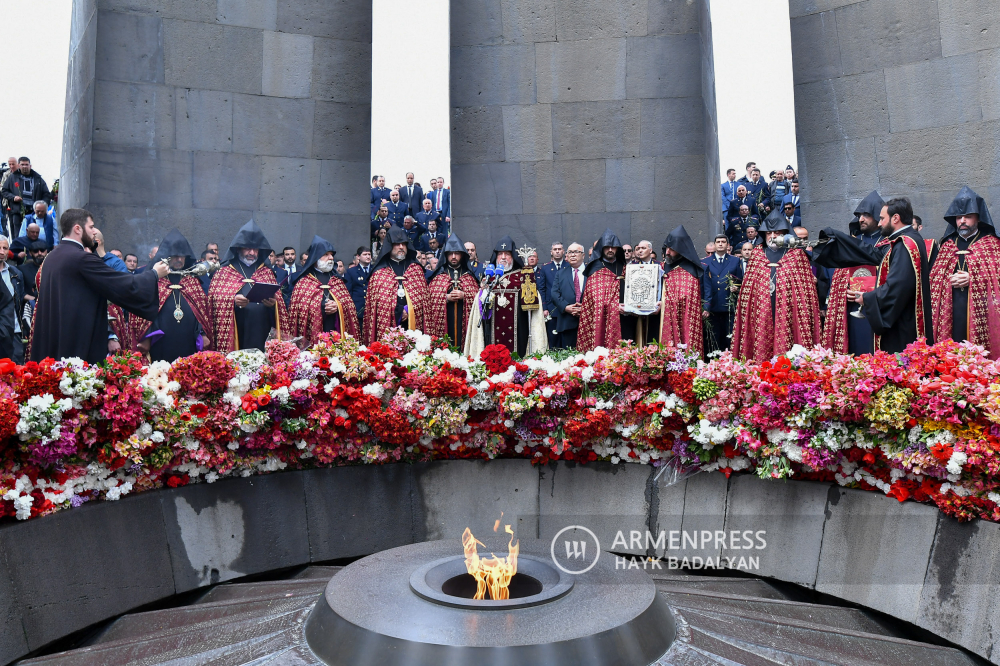 Catholicos of All Armenians Karekin II also visited the Genocide Memorial accompanied by a group of clergy from the Mother See of Holy Etchmiadzin.
They paid tribute to the martyrs of the Armenian Genocide and placed flowers at the Eternal Flame.
Catholicos Karekin II recited the Lord's prayer, after which a requiem service was offered for the victims of this tragedy.