Thousands of Azerbaijanis living in the municipality of Sabuncu in Baku are being poisoned with high levels of mazut and waste pollution, meanwhile the Azeri self-described "eco-activists" are busy with blocking the Lachin Corridor under fake environmental pretexts, having caused a humanitarian crisis for 120,000 people living in Artsakh (Nagorno Karabakh).
The Azeri government-sponsored "eco-activists" are turning a blind eye on the real environmental problem in their capital city of Baku, and by doing so they are exposing their real goals in Lachin Corridor, i.e. to terrorize the peaceful population of Artsakh, while the residents in Sabuncu are already terrorized with Azeri leader Ilham Aliyev's oil refinery waste.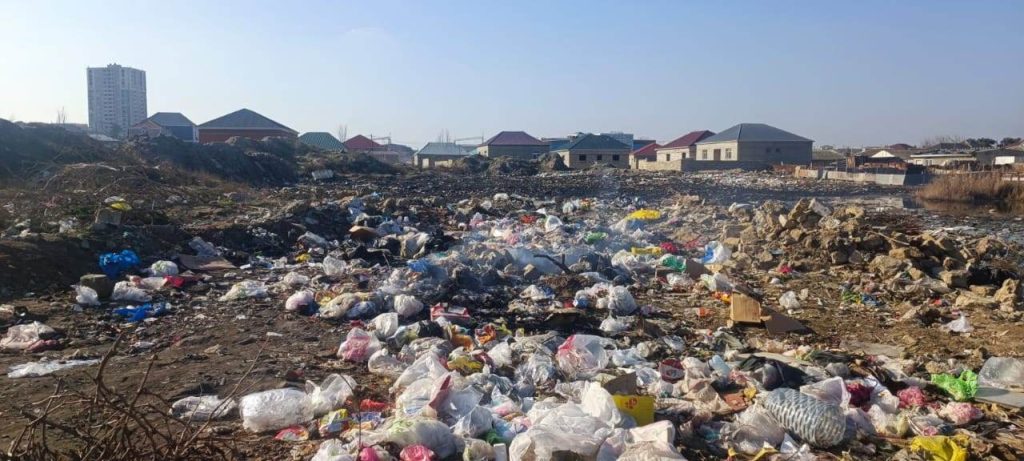 An Azeri journalist wrote an article titled "Life in Sabuncu is poisoned with mazut and waste" in Haqqin.az (the story was later deleted), noting that thousands of local residents have an impression that they are living in an oil production plant which has turned into a landfill. Moreover, a nearby 4-hectare pond of mazut is used by residents as a waste disposal site for household garbage.
Local residents say that the horrible smell makes it impossible to breath in summers. Seemingly the situation had to be a bit easier in autumns and winters, but that is not the case. "Even a little rain causes a flood here. The channel of the pond is filled with garbage and waste. The same happens after snowfalls. In autumns and winters we can't do anything about it and we simply close our homes and leave this place to live with our relatives," one of the residents said.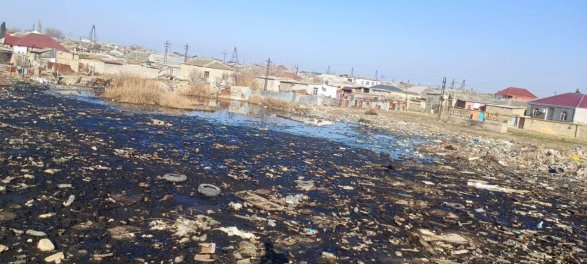 The journalist described the situation in the settlement, "We saw several children playing near the polluted mazut lake. Upon seeing our confused and baffled looks, the locals gestured left and right and said that they are constantly facing danger. And it's not just about oil, which can catch fire at any moment. The mud has made the track impassable."
The residents of Sabuncu have lost any hope of their government, which is feeding them with promises, solving the worsening situation and they aren't even asking why the "eco-activists" blocking the Lachin Corridor aren't demonstrating against the real problem which has been deteriorating for years.
The article was published by the Azerbaijani haqqin.az but was deleted afterwards.
Photos: Haqqin.az