PARIS — On February 9, Armenians from all over the world gathered in Paris to participate in AGBU's 90th General Assembly at Les Jardins de Saint Dominique. Convened biennially to discuss the organization's state of affairs, the event unites AGBU members in considering contemporary realities facing the Armenian world, celebrating AGBU's accomplishments and establishing the guiding principles of the coming years.
An institutional tradition that has carried AGBU through more than a century globally, the General Assembly serves to strengthen the message of the organization, welcome new membership and celebrate accomplished leadership. Because of recent developments in contemporary Armenian history, the Assembly focused on how recognizing, empowering and mobilizing potential in AGBU communities is vital for sustainable political, social and economic development in Armenia and across the world.
"We must remain relevant and serve as champions of Armenian interests. We should be in a constant state of evolution," AGBU President Berge Setrakian said, addressing the Assembly. "We must ask ourselves at all times: Are we speaking to the timely concerns of every generation? Are we addressing global issues? And most of all, can we amplify our voice as a united people, giving credence to the concept of being 'a small republic that is a global nation'?"
Reaching Armenians across the world and having them engage with AGBU means recognizing Armenians for the many identities they carry. The diversity of the members that gathered in Paris to participate this year aligned with the shifting narrative of Armenian identity and as such, the guiding principles measuring official membership in AGBU. "This is why our General Assembly has just adopted an amendment to our bylaws including anyone who believes in the values of our organization as a welcome member," President Setrakian announced, "And now, we must find ways to reach all of these Armenians." The spirit of finding unity in diversity and recognizing how AGBU organizes communities across the world evolved as the underlying theme of the meeting and throughout the weekend events.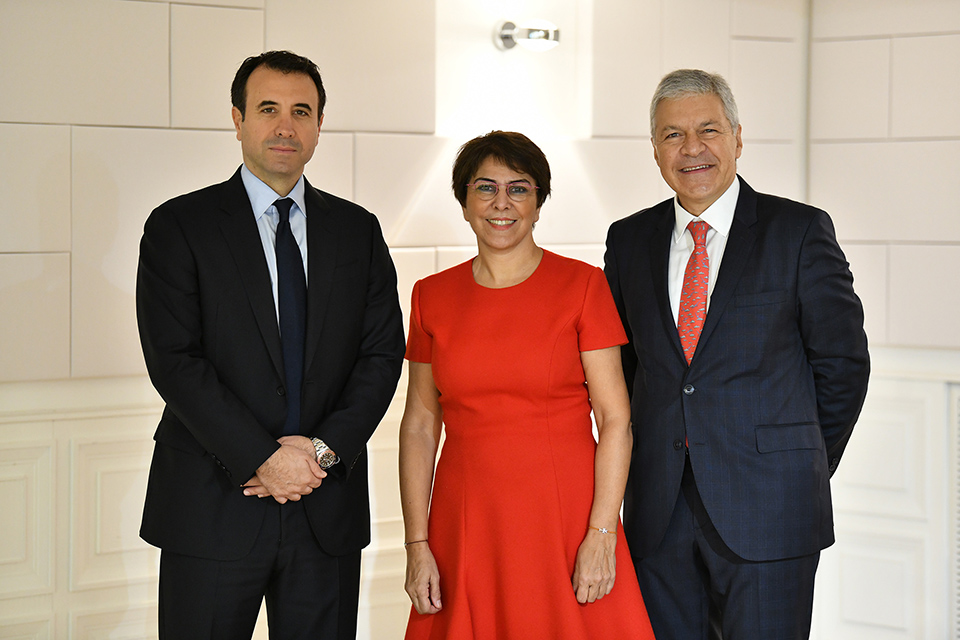 During the General Assembly four new board members: Haig Ariyan of New York, Nadia Gortzounian of France, Vartkess Knadjian of Belgium and Ari Libarikian of New York.
Haig Ariyan is the president and CEO of Alex Brown and serves as head of Raymond James Global Wealth Solutions. He had previously worked at Dean Witter Reynolds, where he launched his career in financial services. Ariyan is a member of the board of trustees of the Diocese of the Armenian Church and has served as chairman of the Armenian Church Endowment Fund's investment committee. He is also a member of the board of trustees of St. Nersess Seminary and sits on the board of the Dadourian Foundation.
Nadia Gortzounian enjoyed a 28-year career in the pharmaceutical industry at Merck & Co. in France and she has spent her last 15 years with Merck as business unit director for primary care products. Appointed president of AGBU France in October 2015 and president of AGBU Europe in 2016, she has spearheaded the development of strategic objectives for the region. Long involved in the Armenian community in France, Gortzounian is the treasurer and general secretary of CCAF (Coordination Council of Armenian Organizations in France), and a member of the board of the Bullukian Foundation in Lyon.
Vartkess Knadjian is the chief executive of Backes & Strauss. Serving as president of AGBU Belgium from 1992 to 2005, he has also been closely involved with Armenia since 1993, when he first started working with the Shoghakan Diamond Factory. Knadjian is the co-founder of the Armenian Jewelers' Association and established the Armenian Jewelers' Foundation to raise funds for research on the history of Armenian jewelers, traders and stone merchants. He is a partner in Lori Diamond Factory in Nor Keghi, Armenia.
Ari Libarikian is a senior partner with McKinsey & Company in New York and the leader of the Digital McKinsey Northeast location, focused on helping a broad set of clients across sectors develop and drive digital strategies, and leverage operations and technology to drive business value. Prior to joining McKinsey, he held various positions at Nortel Networks and Bell Labs focused on developing and testing next-generation telecommunications technologies. He currently serves on the board of the Children's Aid Society in New York.
The AGBU Council of Trustees also saw change in leadership as Vatche Manoukian, prominent philanthropist and businessman, was announced as chairman. He will serve alongside RA President Armen Sarkissian, Eric Esrailian, Sam Simonian, Sinan Sinanian and AGBU President Berge Setrakian, as ex-officio member. Former members of the Council of Trustees Sarkis Demirdjian, Louise Manoogian Simone, Richard Manoogian, Nazar Nazarian and Karnig Yacoubian became Emeritus Trustees.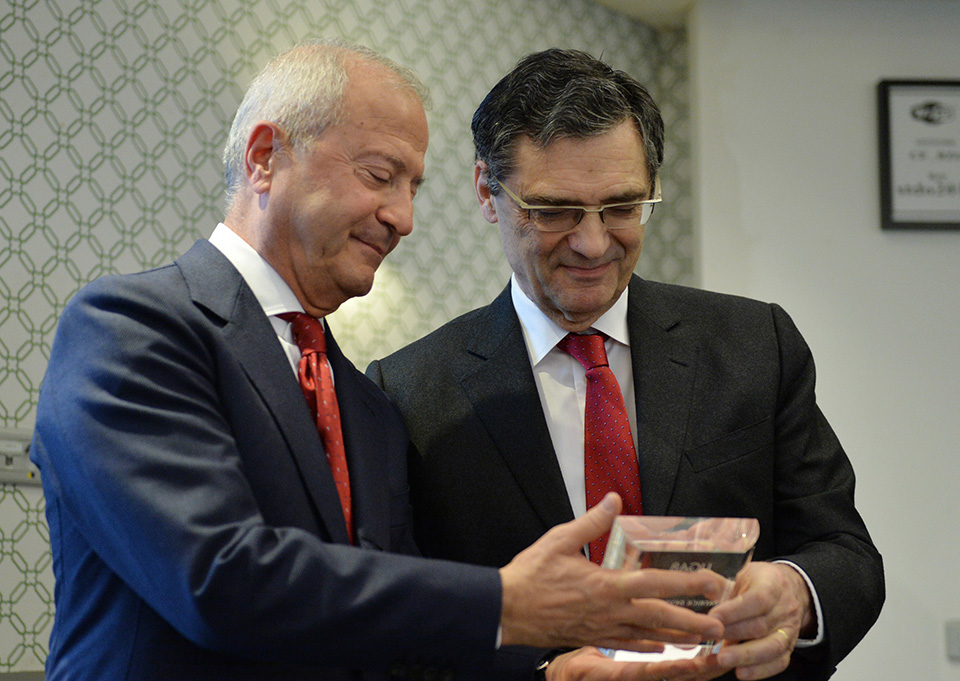 At the Assembly, French politician Patrick Devedjian was honored with the Boghos Nubar Award, the highest honor AGBU bestows upon community members who elevate others and work tirelessly in service of society. From lawyer to minister, parliamentarian to mayor, and now president of the Hauts de Seine General Council, Devedjian was recognized for his prominent career as an attorney, ceaselessly championing human rights throughout his 35 years of public service. "The son of an Armenian father who survived the Genocide himself, Patrick has created an impressive career throughout his years of public service but has never abandoned the mantle of defending the voiceless," began AGBU President Setrakian, "His work honors the legacy of the victims of the Armenian Genocide, and the strength of both the survivors and the freedom fighters of the Armenian cause." His unrelenting pursuit of justice in relation to the recognition of the Armenian Genocide led to the passage of a 2016 extension of the current French holocaust law, making the denial or trivialisation of all events classed as genocide, crimes against humanity, war crimes or slavery punishable crimes. Celebrated as a universal role model and global Armenian citizen for his advocacy, Devedjian was honored for how he has paved the way for a generation of Armenian leadership in public service.
Esteemed community leaders were also presented with high honors throughout the Assembly. Tamar Khabaian from Syria, Monica Nalbandian from Brazil, Maral Tchorbadjian from Australia and Herminé Duzian from France were all recognized by executive leadership in front of an audience of peers, celebrated for their valiant efforts in serving and maintaining the spirit of AGBU. Tamar Khabaian was distinguished for her impassioned service as head secretary of the Syria Central Committee and Educational Committee, overseeing the Health Care Committee, the Editorial Board of the Hayatsk publication, and the Emergency Relief Body in Syria. Regarded as the "armeniapedia" of the AGBU Brazil chapter and a vital figure in organizing their Armenian volunteer kitchen, Monica Nalbandian was celebrated as one of the longest serving members on their board and an exemplar of service. Chair of AGBU Melbourne since 2003, Maral Tchorbadjian was recognized for establishing a presence in and building networks across her city, all while being instrumental in raising funds and mobilizing her community members to build a brand-new facility. With almost three decades of service, Herminé Duzian, the AGBU Diaspora Youth Programs Chief Coordinator in Armenia and Europe, was honored for her boundless efforts in engaging youth and connecting new generations to their identity.
Along with community leaders and active citizens in the Armenian world, the AGBU Buenos Aires Chapter, the AGBU Young Professionals of Greater New York and the AGBU Young Professionals of Northern California were also recognized with awards, celebrating their innumerable contributions to community life among their constituents. Serving a thriving and dynamic community of Armenians in Argentina, the AGBU Buenos Aires chapter was recognized for its impeccable dedication to excellence and outreach to their local community. Particularly notable was their Armenian Restaurant initiative. Both a fundraising operation and a meaningful social gathering, the restaurant is renowned in Buenos Aires and the money made by the youth staff goes towards their annual trip to Armenia; to this day, over 900 young Armenians from Buenos Aires have visited the homeland because of this unique initiative. AGBU Buenos Aires Chair Ruben Kedikian accepted the award on behalf of the chapter.
Both YP Greater New York and YP Northern California were celebrated for over two decades of galvanizing the newest generation of leadership in the Armenian world with their dynamic spirit of service and activism. YPGNY Chair William Nazarian and YPNC Chair David Ojakian were present to accept the awards on behalf of their groups. From coordinating unique fundraising opportunities to programming original educational forums, these YP groups distinguished themselves as communities that can be mobilized when nurtured. To continue to facilitate this growth and participation worldwide, all YP groups were officially recognized as permanent entities of AGBU at the General Assembly, with language reflecting their new status in the by-laws.
While the Assembly celebrated past achievements by honoring these dynamic community leaders, members were also encouraged to look to the future. "We've been called upon to navigate uncharted waters that require flexibility, ingenuity, vision and above all, unity. Finding a solution is no simple task. But one part of the answer is clear," President Setrakian explained. "We, here in this room are in a position to provide. We must provide opportunity. We must provide a forum for growth. And we must provide a means to engage all Armenians across the globe and speak to the interests of the new generation."
As the 90th General Assembly came to an end, participants left Les Jardins de Saint Dominique with evidence that AGBU is evolving with its community, embracing progressive definitions of Armenian identity, while honoring its centuries-old tradition of empowering Armenians worldwide.