LONDON — As a tribute to individual contributions in science, medicine, humanities, arts, and mathematics, King's College London presented seven distinguished individuals with honorary doctorates during a special ceremony on October 24 at the London Campus. Vartan Gregorian, president of Carnegie Corporation of New York, was among the recipients. King's recognized him for his longstanding and steadfast support of the college's international programs, and in particular, the Department of War Studies and the African Leadership Centre.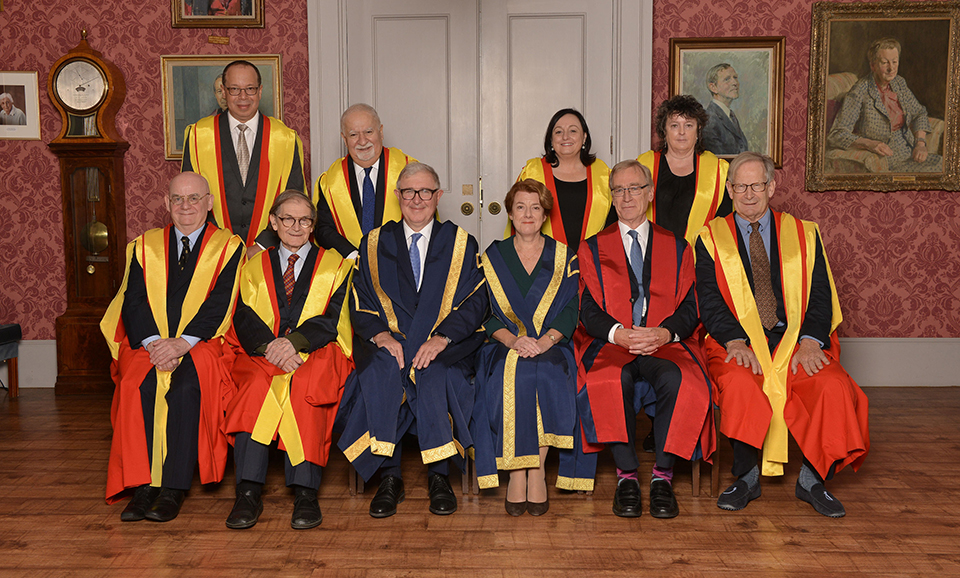 Baroness Morgan of Huyton, vice-chair of King's College Council , and Professor Edward Byrne, president and principal of the college, presided over the award presentation honoring Gregorian and his fellow honorary graduates:
-Professor Patricia M. Davidson Dean of the Johns Hopkins University School of Nursing. Global leader in cardiovascular health for women and vulnerable populations.
-Professor Dame Carol Ann Duffy Poet, playwright, and academic who was appointed Poet Laureate in 2009. Professor of contemporary poetry at Manchester Metropolitan University.
-Sir John Eliot Gardiner Internationally renowned conductor. Founder and artistic director of the Monteverdi Choir, the English Baroque Soloists, and the Orchestre Révolutionnaire et Romantique.
-Professor Barry Halliwell Internationally acclaimed biochemist. Chairman of the Biomedical Research Council, Agency for Science, Technology and Research (A*STAR) in Singapore.
-Professor Sir Roger Penrose World-renowned mathematical physicist, mathematician, and philosopher of science. Emeritus Rouse Ball Professor of Mathematics at the University of Oxford and Emeritus Fellow of Wadham College, Oxford.
-The Honorable Sylvia Wynter Jamaican playwright, novelist, and academic. Celebrated philosopher of the colonial and postcolonial condition.
Invited to speak on behalf of the honorees, Gregorian noted King's commitment to high standards, hard work, inspiration, and vision, starting with its founding in 1829.
"Our universities, our colleges, our libraries, learned societies, and think tanks, indeed our contemporary scholarship, more than ever, have a fundamental historical and social responsibility to ensure that we provide not training but education, not education but culture as well, not information but its distillation, namely knowledge, in order to protect our society against counterfeit information disguised as knowledge," said Gregorian.  "The deeply held belief that knowledge is essential to independence of mind and will, as well as to the essence of a democratic society and nation, is a concept that has become a living credo of educational institutions. As never before, the wealth of nations now depends on the performance of higher education through its contributions toward building human capital and accumulated knowledge."
King's College London is a Corporation grantee. It is one of the United Kingdom's leading universities, serving more than 30,000 students across nine schools of study.