BY ALLAN Y. JENDIAN
FRESNO – A grand exhibit of Centenarian Katchador "K" Boroian's intricate works was presented at the Alta District Historical Society's White House Cultural Center in Dinuba on Saturday, August 25, 2018, in collaboration with the Armenian Cultural Conservancy of Fresno.
Richard Duerksen, Vice President of the Historical Society, the inheritor of Mr. K's works, and Allan Jendian, Board Member of the Conservancy, and a recipient of one of his tapestries, each representing their organization, reflected on the significance of Mr. K's amazing creative handiworks and acknowledged those working behind the scenes in preparation of the event, especially local artist Jerry Chang, who spent countless hours hanging the exhibit.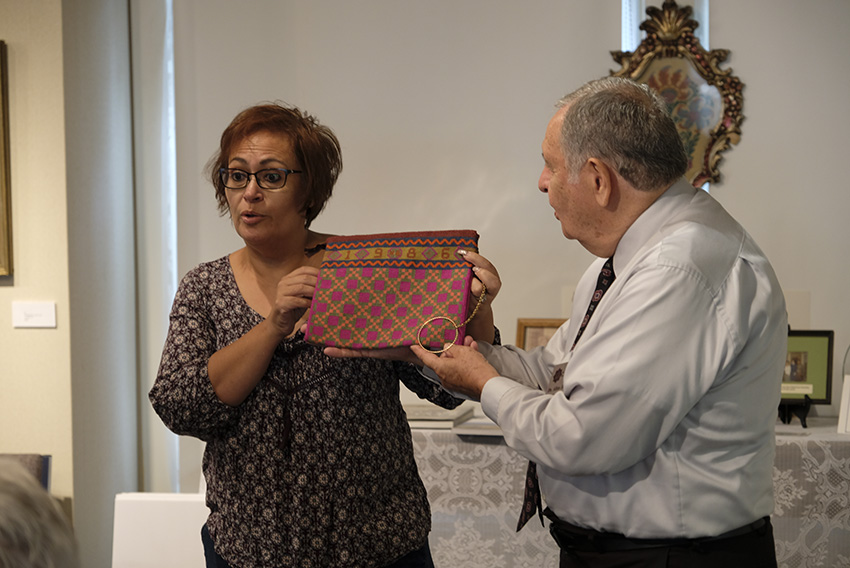 Jendian, serving as MC, introduced our distinguished historian and educator, Deacon Van Der Mugrdechian, a Board Member of the Conservancy, who presented the life of Boroian and shared remarks of Mr. K's intricate early charcoal drawings, needlepoint, and petit point.
Mr. K was born in 1889 in Chunkoosh, Armenia, and attended the prestigious Art Institute of Chicago. He served in the US Army during WWI, painting helmets and artillery for camouflage, had a career as a commercial artist, and taught himself needlepoint. He later moved to California, first on a farm in Yettem and shortly thereafter to Dinuba. Because he suffered from glaucoma since the 1940's, he gave up the art for 25 years.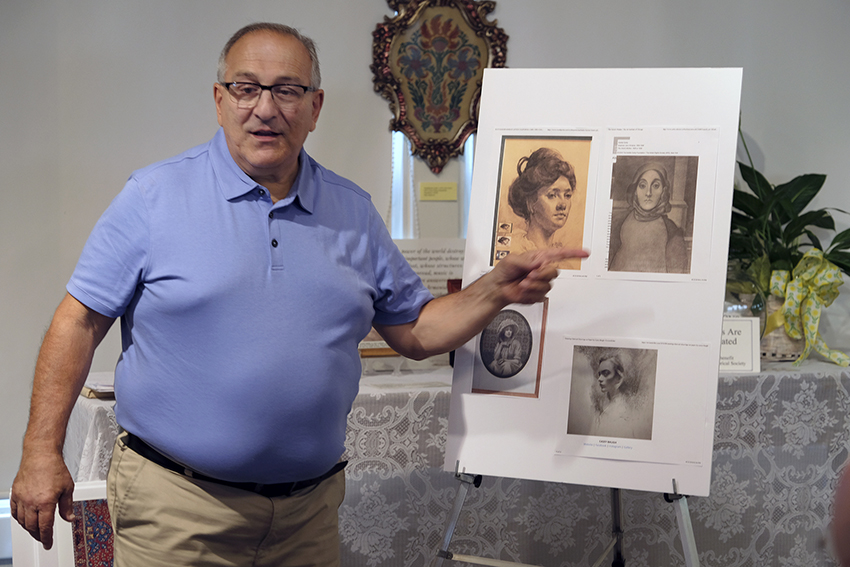 At the age of 81, however, Boroian re-established his routine of 15-18 hours per day at his needlepoint canvases. His last years were spent at the California Armenian Home. He gifted many of his museum quality pieces to friends. Boroian passed away on July 1, 1989, in Fresno.
In the audience was another recipient of Mr. K's works, Maribel Reynolds, who had brought her 1986 High School graduation gift from Boroian. It was a unique needlepoint purse, which she treasures. Reynolds, currently a Dinuba City Council member, was a neighbor of Boroian and visited him occasionally.
Following the presentation guests viewed Mr. K's works and enjoyed an array of desserts prepared by committee members.
The Historical Society's White House at 289 South K Street, in Dinuba, is open to the general public on Tuesdays and Wednesdays, 9:00-12:00 and 1:00-3:00, and by appointment. They may be reached at 559-591-2144 or [email protected].