JERUSALEM (RFE/RL) — Israel has accused an Israeli drone maker of bombing Armenian soldiers in the Nagorno-Karabakh region at the request of Azerbaijani clients during a sales demonstration, government and local media reported.
The accusation by Israel's Justice Ministry on August 29 did not specifically mention Azerbaijan or Nagorno-Karabakh in its statement. But Israeli media said a complaint filed with the Defense Ministry, which promoted an investigation, made it clear that Azeri officials and Karabakh Armenian soldiers were involved.
The Defense Ministry complaint was leaked to the Maariv newspaper, which first reported the incident. It was unclear who exactly filed the complaint.
In its statement on August 29, the Justice Ministry said it plans to indict the chief executive, deputy CEO, and other officials and employees of Aeronautics Defense Systems for the incident, which it said occurred in 2017.
"Aeronautics and 10 of its employees were informed that they were set to be charged, pending a hearing," the Justice Ministry said, according to The Times of Israel.
Aeronautics team was suspected of "fraudulently obtaining something under aggravated circumstances," along with violations of Israel's security export control law, the newspaper reported.
In response, the Yavneh-based firm said it is "convinced that after we first present our position at the hearing, the State Prosecutor's Office will reach an informed decision that there is no reason to put the company or any of its officers in court and will order the case closed."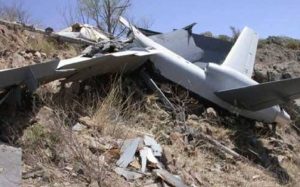 Azerbaijan's Embassy in Washington, D.C., did not immediately respond to a query from RFE/RL. No one was immediately available at the Armenian Embassy.
Maariv and The Times of Israel newspaper reported that the incident occurred in Nagorno-Karabakh.  The reports said Aeronautics officials in 2017 were working on a potential $20 million deal with Baku, when Azerbaijani officials asked them to demonstrate their Orbiter 1K armed drone on Armenian soldiers.
The reports said two employees refused to carry out the attack before two higher-ranking executives eventually agreed to do it. They said the drone did not directly hit their targets, but two soldiers were injured in the attack.
The Times of Israel quoted Army Colonel Armen Gyozalian as confirming that two soldiers were lightly wounded in the incident.
Israel suspended Aeronautics' export license after the complaint was filed with the Defense Ministry, the report said.
Azerbaijan is one of the largest importers of Israeli military equipment. In 2016, an Israeli-made drone dove into a bus carrying seven Armenians, an incident that was captured partially on video.
The Times of Israel reported that that drone was made by another Israeli firm, Aerospace Industries.