YEREVAN (RFE/RL) — Armenia's new government has signaled its desire to expand the country's small air force amid Russian media reports that it is discussing with Moscow the possibility of buying advanced Russian fighter jets.
Prime Minister Nikol Pashinian posted on his Facebook page on June 17 a photograph of himself sitting in the cockpit of a Sukhoi Su-30SM warplane apparently parked at the Erebuni airbase in Yerevan. He described it as "one of the world's best fighter jets" but gave no further explanations.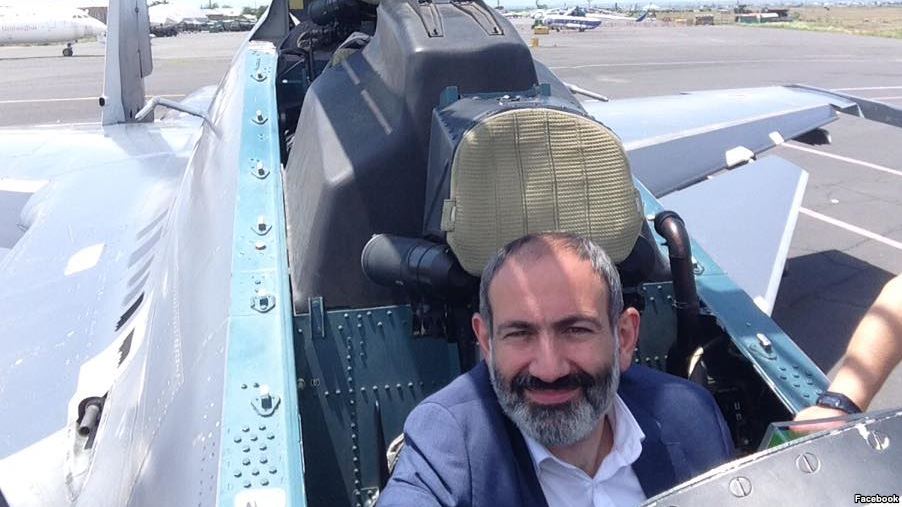 Citing unnamed sources close to the Armenian Defense Ministry, the Sputnik news agency reported on Monday that Yerevan is now negotiating Moscow on the purchase of such multirole aircraft. "The fighter jets could be added to the Armenian military arsenal in one or one and a half years," it said.
For its part the Russian daily "Kommersant" reported on Tuesday that the two sides already signed in 2012 a contract on the delivery of at least 12 Su-30SMs to Armenia but that they were never supplied due to "financial difficulties" of the Armenian side. It said Moscow now hopes to reach an agreement with new Armenian government on implementing that multimillion-dollar deal "as soon as possible."
The Defense Ministry in Yerevan on Wednesday declined to comment on the Russian reports.
Defense Minister Davit Tonoyan and the secretary of Armenia's Security Council, Armen Grigorian, may have discussed the matter at a meeting on Tuesday. A Defense Ministry statement on the meeting said the two men "stressed the importance of programs aimed at developing the aviation of the armed forces." It did not elaborate.
Incidentally, Tonoyan met with two top executives of Russia's state-owned defense industry when he visited Moscow on June 4. His press office said they discussed ways of expanding Russian-Armenian "military-technical cooperation," an official euphemism for arms supplies.
Media reports already said in January 2016 that Yerevan is considering acquiring Su-30SM jets. Then Armenian Defense Minister Seyran Ohanian did not deny them.
The Armenian Air Force currently consists of 15 or so older and far less sophisticated Su-25 jets. These low-flying Soviet-era aircraft are designed for air-to-ground missions.
Su-30SM can perform a broader range of military tasks with more potent precision-guided weapons. It is a more advanced version of a heavy fighter jet developed by the Sukhoi company in the late 1980s. The Russian military commissioned the first batch of such combat aircraft in 2012. Russia has reportedly deployed several Su-30SMs at its airbases in Syria.
Some Russian military analysts estimate the market price of a Su-30SM at around $50 million. Armenia's entire defense budget is equivalent to only about $500 million.
Thanks to its military alliance with Russia, the South Caucasus state has long acquired Russian-made weapons and ammunition at discounted prices or even for free.