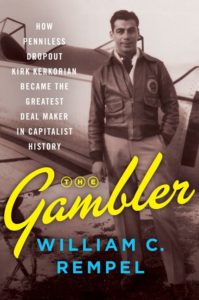 By Christine Aghakhanian
Very little is publicly known about the private life of Kirk Kerkorian, who in 2008 was named one of the wealthiest men in the United States by Forbes magazine with a net worth of $16 billion. Veteran Los Angeles Times journalist William C. Rempel's "The Gambler: How Penniless Dropout Kirk Kerkorian Became the Greatest Dealmaker in Capitalist History," delves into the life and times of the fiercely guarded, humble and soft spoken Kirk Kerkorian whose generosity, gratitude and fairness knew no bounds, a handshake was a binding contract and his master negotiation and deal making skills in the board room are regarded as legendary throughout the business world.
The author introduces Krikor "Kirk" Krekorian as a child born to Armenian immigrants Aharon and Lillia Kerkorian in California's San Joaquin Valley in 1917. Lack of opportunities and a series of bad gambles on crops lures the family of five to Los Angeles where odd jobs and the never-ending pursuit of the American dream lands Kirk in the boxing ring earning the title "Rifle Right Kerkorian" as a highly competitive welterweight boxer. During this time Kirk becomes fascinated by airplanes, uses his small earnings to take flight lessons later becoming a pilot for the Royal Air Force during World War II.
Rempel discusses Kerkorian's love for flying which leads Kirk to the first of many deals financed by the Montebello branch of Bank of America. Brokering airplanes was lucrative, however, Kirk decided to start a chartering business which then introduced him to the prospects of a new and slowly developing gambling destination town of Las Vegas, Nevada. It was in Vegas where he would meet Manny "Mike" Agassi, an ethnic Armenian immigrant from Iran working as a waiter. The two men would build an everlasting bond of friendship, so close that Mike gave his son, future tennis champion the name Andre Kirk Agassi to honor his close friend and confidant.
His relationship with actors and performers like Elvis Priestly, Carey Grant, Frank Sinatra and Barbra Streisand proved invaluable as his knack for gambling and taking risks on entertainment acts at his hotels were recipes for many mutually beneficial collaborations. Still, Kerkorian was never satisfied and continued to make deals which led to the acquisition of the struggling MGM studio and the establishment of the MGM Grand Hotel in Vegas.
Kerkorian's shrewd business sense was characterized in "The Gambler" as fair and compromising so that nobody walked away from a deal feeling shortchanged or defeated. His love for his Armenian heritage and the 1988 earthquake in Soviet Armenia was what ignited his philanthropic spark to create the Lincy Foundation, named after his daughters Linda and Tracy. Through the United Armenia Fund (UAF), Kerkorian chartered planes to Armenia with hundreds of millions of dollars in aid and currency to help the landlocked republic which was suffering economically due to the catastrophic disaster. His philanthropy lasted for decades.
In the book, Rempel writes of the comedic account of the American-born Kerkorian and the cultural differences of the Armenians in the homeland as told by former employee Harut Sassounian. In Armenia, Kerkorian was regarded as a hero, but he loathed publicity and instead wanted to remain as anonymous as possible, even going so far as to purchasing a sculpture of his bust so that it would not be erected anywhere in public. Kerkorian's only wish through the UAF and his other endeavors was to see Armenian organizations working together and acting as a united front to help rebuild the homeland.
Kerkorian's charitable work in Armenia earned him an unofficial title of sainthood and invigorated Armenians with pride and confidence in a promising future: "Neighboring Azerbaijan may have oil, but we have Kerkorian." In 2004, Kerkorian was awarded the National Hero of Armenia medal – the highest honor bestowed to an individual by the Armenian Republic.
His last and perhaps most impactful legacy was his lifelong desire to educate the world of the atrocities suffered by his Armenian compatriots during the Genocide of 1915. "The Promise," was Kerkorian's last deal. It would prove to be the most sentimental and closest to his heart. Friends close to Kerkorian confirmed that for decades, he talked about producing a film that would expose the horrific events of the Armenian Genocide, this was further proven when he decided to finance the film entirely on his own at $100 million and donate the proceeds to charity. Kerkorian's old age and ailing health did not stop him from making his last deal which would be etched into history and live on forever in film vaults and digital libraries around the world.
Upon his death, Kerkorian donated $200 million from the Lincy Foundation to UCLA, half of which was dedicated to the "Dream Fund" which supports charities all over the world. Kerkorian died on June 15, 2015 at the age of 98 in his Beverly Hills home. The welterweight boxer, aviator, gambler and entrepreneur was buried in the Inglewood Park Cemetery alongside his parents and older sister Rose.
Author Rempel's extensive research and detailed composition of fragments of information strewn across libraries and archives, his thorough interviews with Kerkorian's confidants and friends and his admiration of the business tycoon's rags to riches story is what makes "The Gambler" not just any other biography. It is testament to the notion that the American Dream is achievable in spite of adversity and little expectations from an intolerant society. The book demonstrates that Rifle Right Kerkorian had beaten the odds against him, fought his way to the top and made sure others who had obstacles in their path to success were given a helping hand. "The Gambler" is an homage to an extraordinary man with an extraordinary life.