December 9, 2017 will remain a very memorable day in the records of the AGBU Hye Geen Movement.
Almost 100 women of all ages, with the youth contingency in full force, were gathered in the spacious home of Varuj Babikian and Talin Yacoubian. The latter is not only one of the pioneers of AGBU Hye Geen Young Circle, but also the current chair of the AGBU Western District.
It was a sight to see, the enthusiasm of those present to cherish a historical moment dedicated to an exemplary Armenian woman who has not only raised a successful family single handedly, but has dedicated her life to the service of the community and the nation at large. Mrs. Tavitian's family was almost completely present. Her eldest daughter Arpi had traveled from New Jersey, her daughter Seta from Orange County could hardly contain her excitement, and her sister's family had driven in from San Diego. Also present were Mrs. Tavitian's proud grandchildren.
After the welcoming words from the hostess Ms. Talin Yacoubian, Ms. Vania Gordian most eloquently introduced the honoree with her life's short Biography.
Ms. Sona Yacoubian, the founder and the chair of the Hye Geen Movement introduced Mrs. Tavitian as a pioneer member of AGBU Hye Geen and an exemplary model to which we can all aspire.
Many organizations and personal friends were present to honor Mrs. Tavitian with their praise, love, and respect.
Father Hovsep Hagopian presented a Certificate of Achievement and conveyed the prayers of the Primate of the Western Diocese, Archbishop Hovnan Derderian acknowledging Mrs. Tavitian's dedication to AGBU Hye Geen's work for the past 25 years.
Vrej Agajanian, a City of Glendale Councilman, who also hosts the TV hour of AGBU Hye Geen, presented a congratulatory Certificate on behalf of the City of Glendale.
Talin Yacoubian with her fellow Board members congratulated Mrs. Tavitian for her devotion to AGBU and Hye Geen and presented her with a Certificate of Appreciation on behalf of the Western District, as well as a Tiffany Crystal sculpture on behalf of the AGBU Central Board. Ms. Shoghig Varzbedian read the letter from AGBU President Berj Setrakian praising Mrs. Tavitian's dedication and unwavering faith towards the goals of AGBU Hye Geen from its inception 25 years ago.
Those present were very surprised and overjoyed, when Ms. Sona Yacoubian announced the generous donation of $50,000 to Hye Geen from Drs. Avo & Ara Tavitian, the sons of Mrs. Tavitian, in their mother's honor. Also donating that day, were Mike and Narine Mouradian, with the promise to support one of the Pregnant Women's Centers in Armenia with a donation of $30,000.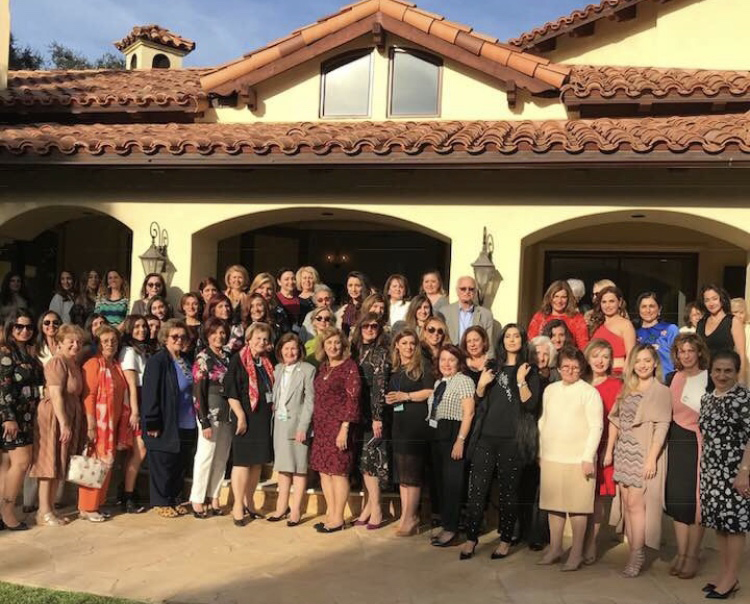 The attendees were jubilant. The guests were enjoying a sumptuous lunch on the green grass in the backyard, and were treated to one of those glorious Southern California days where the sun was happily shining on the volunteers of AGBU Hye Geen. The spirit of optimism, faith, and joy truly prevailed on that day on a well deserving group who have devoted so many years to supporting women everywhere and mostly their sisters in our homeland.
The fundraiser was a truly a tremendous success, and numerous donations were made not only by those present but even those who could not be there on that day.
AGBU Hye Geen, a grassroots organization, through Public events, Conferences, the Media and Television empowers women everywhere to take on the responsibility of preserving our ethnic identity while giving a helping hand to our sisters in the motherland. For the past 15 years, Hye Geen has been making and continues to make a powerful impact in Armenia by maintaining 5 pregnant women day care centers. In these centers, 100 pregnant women receive Nutritional care, Medical supervision, and are taught personal hygiene, and prenatal care by professionals. To date, these Centers have sheparded more than 2600 healthy newborns and that many healthy mothers.