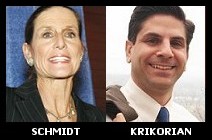 Washington D.C. – On Friday, August 5, the House Ethics Committee ruled that a Turkish-American group improperly paid roughly $500,000 in legal bills that U.S. Rep. Jean Schmidt amassed in lawsuits against a political rival and ordered the Cincinnati area Republican to repay the lawyers herself.
Schmidt received the free legal assistance in her lawsuit against David Krikorian, who ran as an independent against Schmidt in 2008 for Ohio's 2nd Congressional District and also unsuccessfully ran in the Democratic primary for the same seat last year.
Schmidt is suing Krikorian for defamation and seeking $6.8 million in damages. During the '08 campaign, Krikorian, who is of Armenian descent, distributed campaign literature in 2008 alleging Schmidt had received "blood money" from the Turkish government in return for her opposition to a congressional resolution that declared Turkey committed genocide against Armenia during a 1915 conflict.
Last year, Krikorian filed complaints against Schmidt with the Office of Congressional Ethics, which questioned whether Schmidt improperly accepted legal services from the Turkish group.
"The Committee's review of the matter indicated that Representative Schmidt did, in fact, receive an impermissible gift from (the Turkish Coalition of American, or TCA) as (the Office of Congressional Ethics, or OCE) has alleged, and therefore the Committee did not dismiss the OCE matter," the committee's report stated.
"However, the Committee has found that Representative Schmidt's lawyers failed to inform her of their payment arrangement with TCA, and made false and misleading statements to her about about their relationship with TCA and (the Turkish American Legal Defense Fund). Because Representative Schmidt did not know she was receiving a gift from TCA, the Committee has determined that no sanction is appropriate in this case."
The committee did find, though, the gift was impermissible under House rules and Schmidt must reimburse the money.
The committee's report also stated Schmidt received aid from attorneys in at least three legal matters, then those attorneys sent their bills to the Turkish Coalition of America for payment.
According to the Center for Responsive Politics, Schmidt has received $12,650 from the Turkish Coalition U.S.A. PAC and another $5,800 from the Turkish American Heritage PAC. "Overall, these two organizations have given federal candidates $187,555 since 2007, which means contributions to Schmidt account for roughly 10 percent of all their donations," the center has reported.
Also, the center reports Schmidt also took a $10,000 trip to Turkey in 2009, sponsored by the Turkish Coalition of America; and the Turkish American Legal Defense Fund provided her legal counsel for a related suit before the Ohio Election Commission.
Krikorian, a Madeira businessman of Armenian descent, alleges that in return for their cash, Schmidt opposed congressional efforts to declare as genocide the mass killing of Armenians by the Ottoman Empire during World War I.
In a statement,Krikorian decision proved he was "right all along." He said he finds it "laughable" that Schmidt "did not know the facts regarding her own attorneys in legal actions which she commenced in her own name."
"The American people are tired of Congressmen and women who break the rules and get away with it by blaming someone else," said Krikorian.