LOS ANGELES — Armenia Fund and Adventist Health Glendale (AHGL) successfully completed their third joint medical mission to Armenia. With more than 50 volunteer medical professionals from Los Angeles, the week-long mission to the Noyemberyan Hospital in Armenia's northeastern Tavush Region, near the border with Georgia and Azerbaijan, was unprecedented in its scale and scope.
Prior to the start of the mission, an advance team of specialists was sent to the Noyemberyan Hospital to help prepare and optimize its medical infrastructure, ahead of the entire medical team's arrival. The Noyemberyan Hospital staff assisted the advance team in unpacking and organizing close to four tons of medical and surgical supplies, pharmaceuticals, and equipment for the hospital.
On Saturday, September 16, the entire medical team arrived at the Noyemberyan Hospital, and quickly joined the advance team in putting the final touches to preparations leading to the kickoff of the mission. By the end of Sunday, September 17, the first full day of the mission, the medical team had already operated on 12 patients, back to back – a record number of procedures performed in a single day at a rural hospital in Armenia.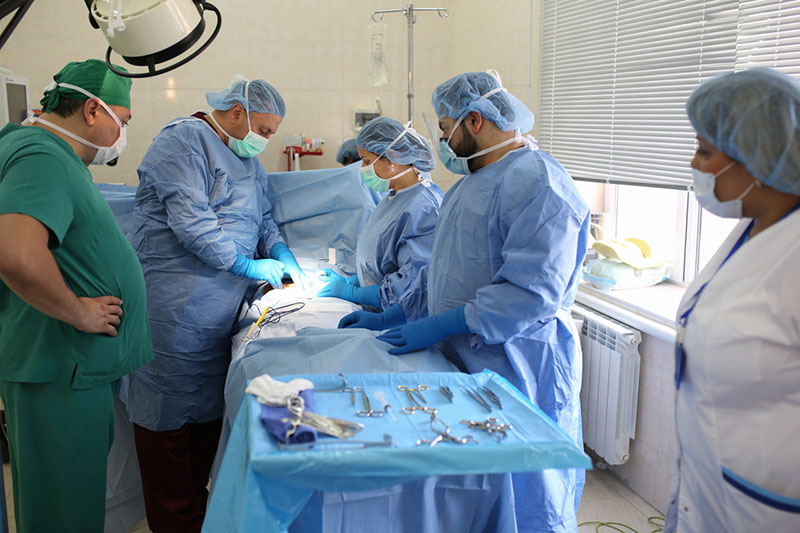 The medical-mission team was joined by six surgery residents in their final year of residency from Yerevan – three general-surgery and three anesthesiology residents. Throughout the mission, the residents assisted, observed, and learned from the AHGL surgery team. For them, it was a truly unique opportunity to work with a highly skilled and experienced team of medical professionals.
"Though I couldn't participate in the Armenia mission trip this year, I'm extremely proud of our team's results," said Kevin Roberts, President and CEO of AHGL. "Every year, this healing ministry gets better and touches more lives in Armenia. God blessed us in 2017 as He has the previous two years. And once again, Armenia Fund was our extraordinary partner, as it seamlessly organized logistics, shipped supplies, and hosted our missionaries. Our local mission to 'live God's love' is fulfilled and enlivened through these projects."
"For the past 26 years, as the premier development organization working in Armenia and Artsakh, Armenia Fund has been implementing large-scale infrastructure development projects and delivering humanitarian aid," said Maria Mehranian, President of Armenia Fund. "The medical mission to Noyemberyan, unprecedented in both scale and scope, marks yet another milestone for Armenia Fund, in terms of having successfully implemented the mission for the third year in a row, through its far-reaching partnership with Adventist Health Glendale."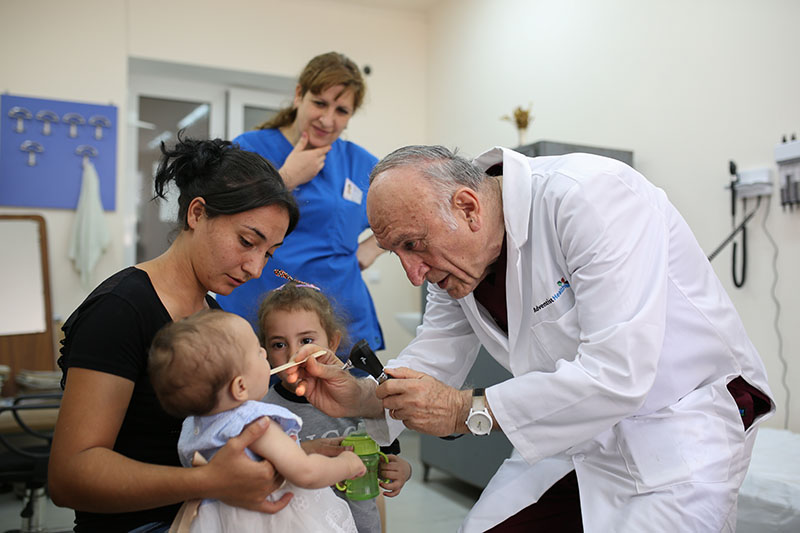 "In addition to providing critical medical care, we help develop the foundations of healthcare through education, training, and resources to increase life expectancies," said Arby Nahapetian, MD, SVP, and Chief Medical Officer of the Adventist Health Southern California Network. "To create sustainability and long-term effects, we are establishing a training program for physicians in Armenia to learn in the U.S. under the auspices of AHGL physicians. This is critical for Armenia's development and future security."
Ever since the medical mission's launch in 2015, thousands of patients in Tavush without access to advanced healthcare have been blessed to receive high-quality medical services. This year, as in the past, many farmers and agricultural workers suffering from conditions such as hernia have been able to return to work, thanks to surgeries performed by AHGL surgeons.
"It is a humbling privilege to be in a group of such extraordinary professionals," said Vahan Cepkinian, an orthopedic surgeon. "We're talking about individuals who brought their unique talents and skills halfway around the world, extended themselves by taking on roles and tasks they were not used to, and took time away from their families who missed them dearly… All this to take care of thousands of people they did not know, to bring hope and calm to a group of people who desperately needed to be soothed and healed. These medical professionals fulfilled their mission driven by an innate desire to ease the suffering of their fellow men and women – to let them know that their troubles matter and can be fixed – and asking for nothing in return, except for the opportunity to do it again!" Dr. Cepkinian ran a very busy orthopedic clinic as part of the medical mission to the Noyemberyan Hospital, performing a total of more than 215 orthopedic interventions as well as surgeries.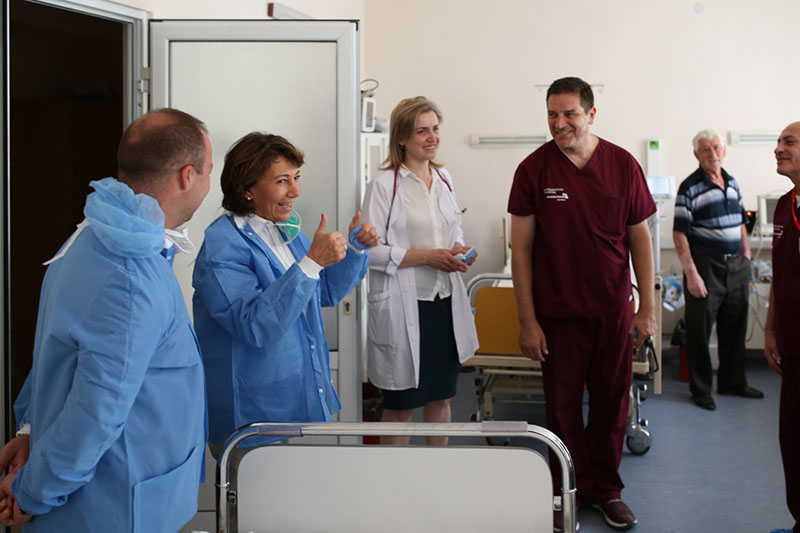 During the medical mission, 78 patients were operated on in a matter of five days. The procedures included gallbladder removals, advanced hernia repairs, and removal of lumps, bumps, and tumors.
The primary-care clinic saw 2,015 patients and provided high-quality medications to those with chronic health problems. The clinic team included specialists in cardiology, pulmonology, pediatrics, neurology, pathology, and cytology.
Due to a general lack of specialized medical resources, women's health in rural Armenia has yet to be addressed adequately. With this in mind, the Armenia Fund-AHGL medical mission also provided on-site Pap smears and breast biopsies to almost 100 women from Noyemberyan and surrounding villages. Pathologists from AHGL worked in the Noyemberyan Hospital's laboratory, preparing and reading samples, and then having clinicians interpret the results and counsel patients. Each individual series of these steps was completed within only a few hours – something which would have normally taken at least 20-30 days, given the limited resources of local medical facilities.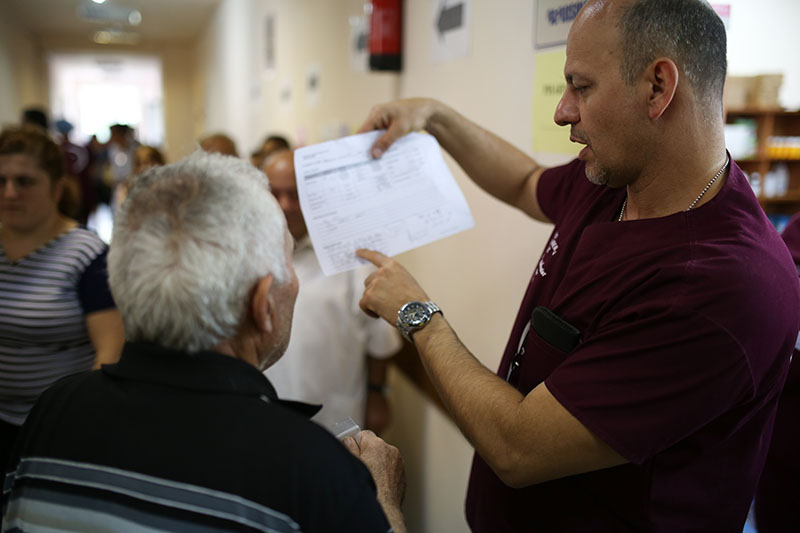 "I was honored and privileged to once again be a part of the mission team from Adventist Health Glendale," said Suzanne Axt, Director of Perioperative Services at AHGL. "Working in the surgical area, we were able to see our patients go from being anxious and curious before surgery to beaming and appreciative after surgery. Some of the procedures may seem minor to us, but to be able to help our patients feel better, heal, and be able to return to work to support their families is truly rewarding. I was called an 'angel' more than once. Those smiles and hugs made the entire trip worthwhile." Axt was leading the surgical operations during the medical mission – overseeing two operating rooms as well as the pre-operation and post-operation units.
The medical mission was once again an opportunity to not only help boost the Noyemberyan Hospital's technical infrastructure and capabilities, but also provide training and create a long-term and sustainable legacy of medical excellence at the hospital. Thanks to the mission, not only were patients treated, but also local physicians and surgeons were given the opportunity to be part of a major undertaking for the benefit of their communities.
"It was very difficult to say goodbye to Noyemberyan, but I'm happy to share that our mission was accomplished!" said Ramella Markarian, Vice President of Business Development at AHGL. "Two thousand and fifteen patients were seen by our physicians and over 6,000 medical services were provided. These included ancillary-care services such as EKGs, blood-pressure and cholesterol checks, ultrasounds, X-rays, orthopedic injections, and biopsies; and specialty consultation, treatments, and surgeries encompassing pediatry, neurology, pulmonology, cardiology, oncology, gynecology, orthopedics, and other fields. Most importantly, however, the people of Noyemberyan appreciated the kind, loving care as well as the new hope which our team brings them every year."