PARIS — Over 1.23 million Euros have been raised at the annual European Phonethon organized by Armenia Fund, held in France November 15-19.
The President of the Republic of Artsakh, Bako Sahakian, arrived in Paris on Sunday to meet with organizing committee members of the fund's local body and young volunteers engaged in the process.
Sahakian highlighted the participation of the Armenia Fund's French branch in the realization of various programs in Artsakh, expressed gratitude to the people involved in the organization of the Phonethon for their work, special attitude towards Artsakh, sharing its concerns and consistent support.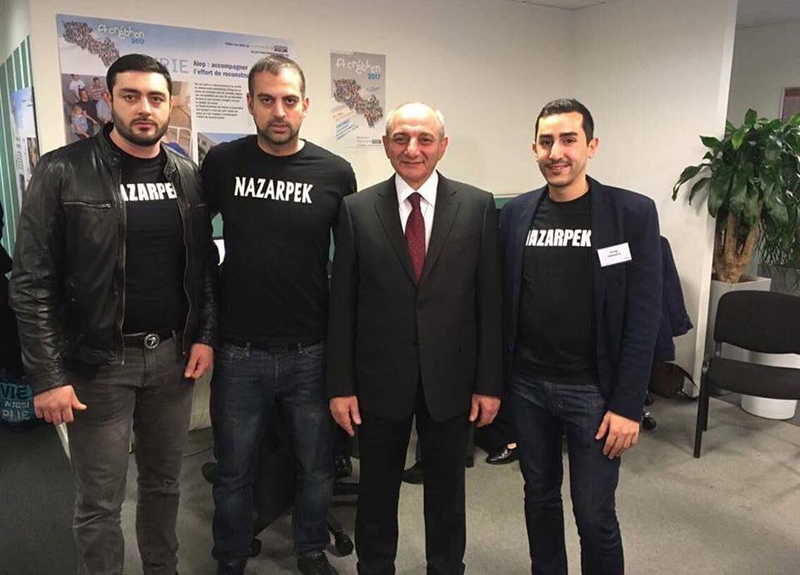 Thanks to the phone calls of nearly 600 volunteers, the funds were raised in pledges in four countries – Germany, France, Greece, Switzerland – from 48,000 families and businesses. This result is slightly lower than the Phonethon 2016, but it does not take into account future donations and may change in the coming days.
Nearly 1,500 new donors joined those of previous years, despite economic uncertainties, bringing the total number of businesses and donor families to 9,900.
The sums collected in France during Phonethon 2017 have three main destinations: the introduction of solar energy in Artsakh, the extension of the agropastoral project of Tavush and the help to SMEs and SMIs that restart their activities in Aleppo.
Phonethon continues after November 19th. It is possible to make donations via the website www.fondsarmenien.org or by phone: N ° Azur (cost of a local call) 0810 24 24 24, until January 15, 2018.
Calls were issued from 4 centers (Paris, Lyon, Marseille, Toulouse). The Armenian Fund mainly builds infrastructure in Armenia and Artsakh (roads, schools, dispensaries and hospitals, drinking water, irrigation, gas and electricity networks, agriculture and livestock …) essential for the socio-economic development of local populations.
The Phonethon was organized ahead of the Hayastan All-Armenian Fund's 20th annual International Telethon to be held on November 23 under the slogan "Fruitful Artsakh."