YEREVAN – In their first official game, since winning the 2016 FIBA European Championship For Small Countries, Armenia beat Slovak Republic 75-61 on Wednesday night in the FIBA Basketball World Cup 2019 European Pre-Qualifiers.
"This is a great result for us," Armenia's Arkadiy Mkrtychyan said. "It was a hard game. We didn't start well but after the first quarter, we changed our game and did a good job. I hope we can also win the second game."
There are more games that have to be won for Armenia to reach the World Cup Qualifiers. They will take on Bosnia and Herzegovina, Sweden (both twice) and once more, the Slovakians.
If Armenia do achieve their aim, players, coaches and fans will remember three minutes of excellence from Mkrtychyan that turned the tide. A 21-year-old who plays for the Idaho Vandals in American college basketball, Mkrtychyan had a shooting spell that will have captured the imagination. He caught fire with his team trailing, 24-18, early in the second quarter.
Mkrtychyan poured in 12 points in that spell, with 6 coming from three-balls. When he'd finished, Armenia had a 30-27 advantage. The hosts then outscored the Slovakians, 16-3, over the last five minutes of the second quarter to take command for good.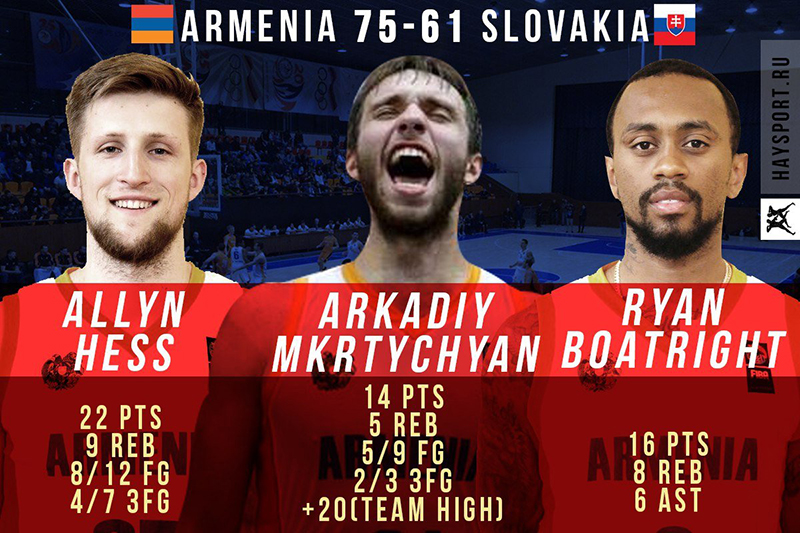 Seven unanswered points at the beginning of the third quarter stretched the Armenia lead to 53-30. Slovak Republic chipped away but got no closer than 12 points the rest of the way.
"We're happy because we started the World Cup Pre-Qualifiers with a win," coach Niksa Bavcevic said. "But we must work hard because we have five games left and must play better in those."
There is no time to celebrate. Armenia will host on Saturday a Sweden team who opened their campaign with a thrilling come-from-behind win at home over Bosnia and Herzegovina.
Maybe the Armenians will win again, or maybe they will fall flat. No matter what happens, the national team has given the country something to be proud of. Armenia, right now, have every reason to believe they can go on to accomplish their goals.