The people of Nagorno Karabakh face a constant threat, but that threat isn't limited to the Line of Contact with Azerbaijan.
The Problem
Nagorno Karabakh is riddled with landmines, remnants of the bloody conflict with Azerbaijan beginning in 1988. These mines lay hidden and forgotten. Residents (men, women and children alike) are constantly in danger of accidentally stepping on one. Since 1995 there have been 370 civilian casualties, as a result of landmines and unexploded ordnance, ⅓ of which involved children. This is, per capita, one of the highest rates in the world.
ONEArmenia, in partnership with The HALO Trust (HALO), has launched a crowdfunding campaign, Mine Free Lachin, to clear one minefield (31,839m² of land) in the Lachin Corridor, near the village of Meghvadzor. A total of 31 minefields remain in Lachin. Once this land is cleared, the people living there can go about their lives, cultivating the fields, grazing their cattle, and further developing their communities safely and without fear of life threatening accidents. Freeing the land of mines is an integral step towards development of the region.
The HALO Trust has cleared 88% of the known minefields in Nagorno Karabakh and is hopeful that by the year 2020 Karabakh will be 100% mine free. When it is, Nagorno Karabakh will serve as a shining example of how very possible it is to revitalize a land that has been ravaged by war.
"We are working to permanently remove a finite, solvable problem. Once the mines are found and destroyed they don't come back, allowing people to get on with their lives without fear of permanent physical, mental and emotional trauma." said Ash Boddy, HALO Program Manager in Nagorno Karabakh.
The HALO Trust
HALO has been working to clear Nagorno Karabakh of landmines since 2000 and is the only organization doing so. To date they have cleared 453 minefields totalling 45,872,000m² of land and impacting the lives of approximately 125,000 people. They have engaged the local population, empowering them to take matters into their own hands when it comes to creating a safe environment for their children to grow up in. One hundred and sixty six local men and women are employed by HALO and trained to find and destroy mines. In doing so they are able to support their families and secure the future of their respective communities.
For the majority of the minefields they have cleared, HALO has received funding from the U.S. Agency for International Development (USAID). However the village of Meghvadzor, and the entire Lachin corridor, do not fall into the boundaries of what was considered Nagorno Karabakh during the Soviet Union. For this reason governmental organizations will not assist in the clearance of the land. This means that HALO is reliant on donations from individuals who are willing to invest in the development of Nagorno Karabakh. One such donor, who prefers to remain anonymous, is willing to match every donation made.
"With the assistance of our generous anonymous donor, there is an opportunity now for ordinary people who want to make a difference to be part of the solution, to see their donation and their impact doubled, and to create safe steps for the future generations of Nagorno Karabakh." said Mr. Boddy.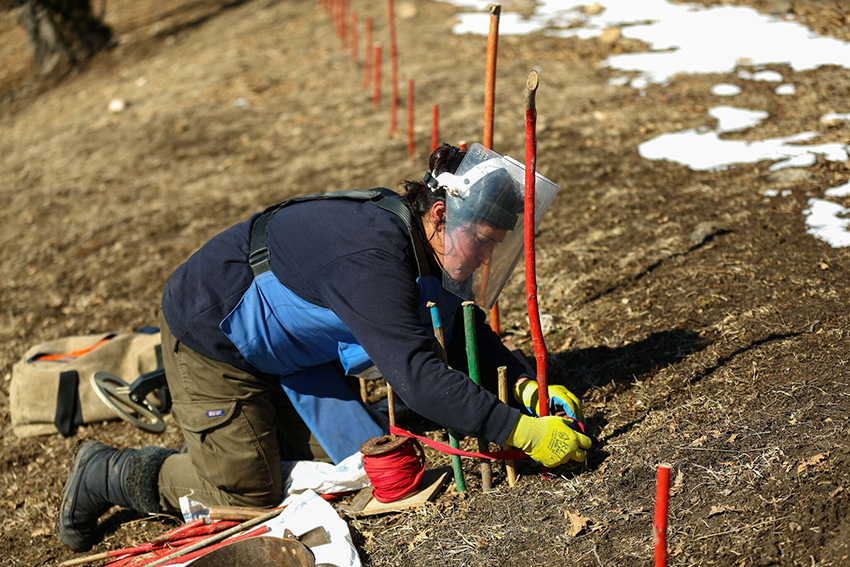 Mine Free Lachin
During what has come to be known as the "Four Day War" in April of 2016, Armenians from around the world showed their support of Nagorno Karabakh by donating to a variety of crowdfunding campaigns. Over $200,000 was raised to support soldiers and their families, purchase medical supplies and to bring in international journalists to encourage objective coverage of the events in the media. It quickly became evident how much the global community wanted to do everything in their power to help. Their donations, emotional support and words of encouragement spoke volumes.
Though the conflict between Nagorno Karabakh and Azerbaijan has not escalated to the severity it did in April, there is still a very real need to be addressed. It has been almost a year, and there is a long way to go towards the development of Karabakh. Clearing the land of mines is imperative to building a safe and productive environment for the people living there.
"Our mission is to build paths towards economic sustainability throughout Armenia and Nagorno Karabakh.  From Yerevan to Lachin, the time to invest in the future is NOW." said Patrick M. Sarkissian Founder of ONEArmenia.
Donate to Mine Free Lachin today and help invest in the future.