LOS ANGELES — During the holiday season of 2016 and early 2017, the girls and staff of the Mer Hooys program in Yerevan, Armenia celebrated the traditions of America and Armenia with gratitude, joy and anticipation for the coming year.
In late November, the girls honored the U.S. Board members by celebrating Thanksgiving with traditional turkey dinner, and learning about thankfulness. The Mer Hooys professional staff guided the girls in doing their own research and presentations about the gifts of giving and of showing thanks.
"Our girls are receiving lessons in being thankful and sharing their good fortune with others," said Judge Adrienne Krikorian, Mer Hooys President. "These important life lessons not only instill important values, but also help to connect and integrate them into the community."
Earlier in the month, the girls received donations of warm clothes, heavy blankets and quilts, and room heaters to keep them warm during the freezing winter months.
"These items and additional monetary donations enabled Mer Hooys to not only prepare our girls for the winter, but also to share warm clothing with our girls' siblings who are not living at the Center as well as with neighboring children's' support organizations," said Judge Krikorian. "We are grateful to the many donors who supported the efforts to keep Armenia's disadvantaged children warm this winter.
In mid-December, the girls were treated to a day at the Darma Shopping Mall where they visited Santa, saw the movie Moana, enjoyed pizza for lunch, and received early Christmas gifts – all thanks to the Society for Orphan Armenian Relief (SOAR). On December 28, the staff of Izimirlian Hospital hosted a holiday party for the children with refreshments and gifts from Santa, who made an appearance and gave each girl one or two gifts from their recent letters posted to Santa. For many of these young children, this was their first experience in having a happy and gift-filled Christmas.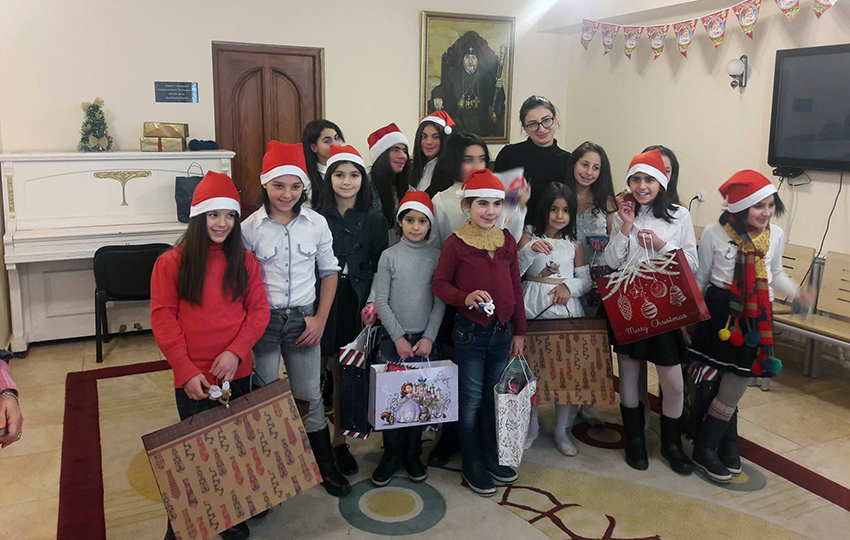 On New Year's Eve, the Mer Hooys girls were guests of the Mother See of Holy Etchmiadzin, continuing a tradition that began in our first year of operation. The girls presented a program to the priests, deacons and seminarians, and enjoyed a meal with them.
"As we begin 2017, Mer Hooys is grateful for our many donors in America, Great Britain, and Armenia," said Judge Krikorian. "With the community's continued generous support, we are saving lives and investing in the future of Armenia."
Mer Hooys Saves Lives
Mer Hooys is a well-respected residential educational program for children from seriously disadvantaged lifestyles in Armenia. Most of the girls come to the Center without a formal education, or performing well below their grade level. They come from families that are abusive or unable to properly support them. Mer Hooys continues to achieve its mission of empowering young girls by providing them with a safe home, comprehensive educational programs, tutoring, psychological counseling, life skills and job training, and, where possible, family counseling and reunification strategies.
Of the 14 girls who were part of the original Mer Hooys "first class" who stayed in the program at least two years, 11 have graduated from high school with good grades, and two will graduate in 2017. Ten graduates are pursuing advanced education in Armenia in fields such as psychology, medicine, photography, architecture and design, business and management, theater arts, and culinary arts. Many of the graduates have reunified with their mothers or father, with support from Mer Hooys staff. Those without a family live in the new transitional apartment in the Nakashian Children's Support Center where Mer Hooys operates.
Seventeen girls ages 7-13 have joined the Mer Hooys family since June 2015 as the "second class", and are gradually acclimating to their new lives while continuing to build a healthy relationship with their mother or living relative, where appropriate.
The Mer Hooys program is 100 percent supported by donations to the U.S. nonprofit, and by benefactors and local businesses in Armenia. Consider making a generous tax-deductible donation to support the girls of Mer Hooys.
Donations can be made online with credit card or PayPal at www.mer-hooys.org or payable by check to House of Hope-Mer Hooys, Inc., at P.O. Box 8507, Calabasas, California 91372-8507. All donations will be acknowledged and are tax deductible to the fullest extent of the law. Visit our website for regular updates and to enjoy our Facebook feed.