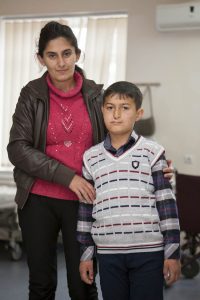 By Sevak Hakobyan
Hovhannes Tumanyan's "The Invincible Rooster" is eight-year-old Artur's favorite fairy tale. He can recite it from start to finish, but has difficulty speaking. Artur Gyureghyan was born with two birth defects: facial and oral malformations known as cleft palate and cleft lip.
"When Artur was born, his mouth remained completely open, so the doctors discharged me but kept him at the hospital; we brought him home a month and a half later," recalls Artur's mother, Anna Simonyan. "My son was eight months old when he underwent his first surgery," she continues. "There was another surgery two months later. In all, he has gone through eight surgeries."
Artur attends the No. 2 Inclusive School, for children with special needs in Yeghegnadzor. He is a bright student and his favorite subject is Armenian language. Artur wants to become a policeman when he grows up. When playing with his classmates, he often takes the role of a cop. And it's with a policeman's bravery that he has gone to each of his recent surgeries, hoping in every instance that it would be his last.
"Prior to every surgery, we've gotten far more emotional and fearful than Artur has," Anna says. "He is sure that everything will turn out well and he will become a handsome boy." Anna is a single mom raising two boys. She divorced her husband eight years ago. She works as a cleaner at the regional administration office in Vayk. Artur's seventh surgery was once again followed by complications: a cleft had developed in his mouth, seriously affecting his ability to eat normally.
Having been informed that doctors from Glendale Adventist Medical Center (GAMC) were to perform free surgeries at Noyemberyan Hospital from October 16 to 21, Anna obtained a surgery appointment for Artur. On October 18, mother and son reached the hospital after a 300-kilometer drive, traveling more than 6 hours by car.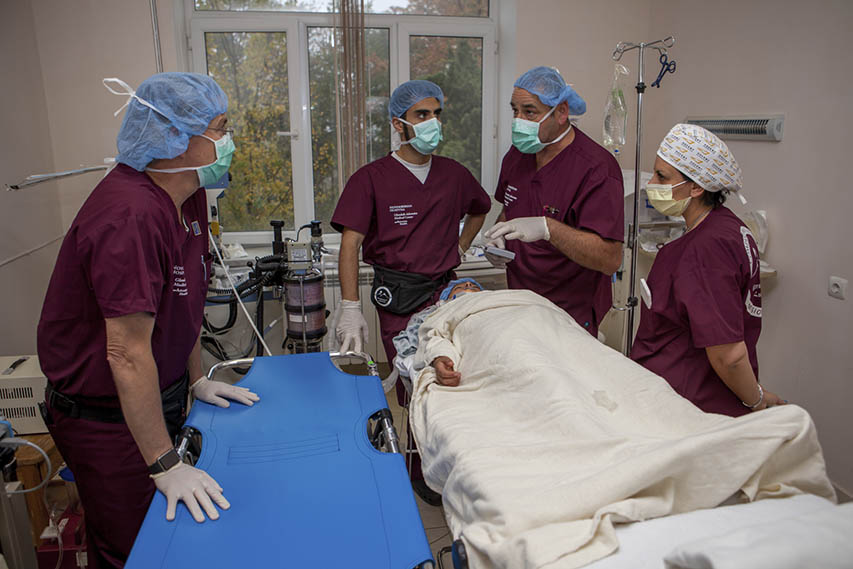 GAMC's medical mission to Noyemberyan Hospital was the result of a far-reaching partnership between GAMC and Armenia Fund US Western Region. Thus, for the second time since 2015, a large team of doctors and other medical personnel from GAMC provided free medical services at Noyemberyan Hospital, benefiting more than 1,700 patients from throughout the Tavush and Lori regions.
In Anna's words, the GAMC doctors have treated Artur with utmost care and support. "From the very start, I pinned all my hopes on these doctors," Anna says. "I'm sure that this particular surgery will help my son get better."
While the GAMC specialists operate on Artur, his mother continues to talk about her son. "Artur often misses school because of doctor's appointments and surgeries," she says, "but he always makes up for it. He's very smart. He's a good chess player and does all of his homework on his own."
Artur's surgery is being performed by renowned oral and maxillofacial surgeons Edward Balasanian and Joli Chou. Dr. Balasanian has come to Armenia from Southern California; Dr. Chou, who is considered a top craniomaxillofacial surgeon, has come from New York. The two surgeons are taking part in the medical mission to Noyemberyan Hospital for the first time. Joining their team today is a young local surgeon, Dr. Guram Aghababyan. A resident of Koghb, a village in the Tavush Region, Dr. Aghababyan considers it a great honor to be working alongside acclaimed surgeons from the United States.
Immediately following the procedure, the doctors deliver the good news to Anna: Artur's surgery has been a total success. And the next morning, Artur himself says he feels great. Once he recovers, he puts his clothes on without any help and heads to school with his mom, intent on bravely overcoming any difficulty, just like the hero of his favorite fairy tale. Thus the ArmeniaFund-Glendale Adventist Medical Center mission to Noyemberyan has helped one more child have a worry-free childhood.