NEW YORK — On October 29, AGBU held its 110th Anniversary Gala at the renowned Jazz at Lincoln Center's Frederick P. Rose Hall in New York with over 500 guests from 24 countries. The gala celebration was part of the AGBU 89th General Assembly, which included delegates' meetings, strategic planning sessions and the world debut of the musical spectacular HOKIS.
During the gala, AGBU recognized the achievements of five inspiring Armenians who bring pride to the Armenian community through their extraordinary accomplishments. The first to be recognized with an award from the AGBU Central Board was George Avakian, one of the twentieth century's greatest American record producers. "Over his 60-year career at Columbia Records and Warner Brothers Records, Mr. Avakian redefined the industry. Working with Louis Armstrong, Edith Piaf and Miles Davis, he brought some of the most iconic musicians we know today into our consciousness and inspired legions of artists around the world. But in his ascent to greatness, he never forgot his Armenian heritage. This is one of the many things that makes him remarkable—he built a bridge between the two worlds and crossed back and forth between them effortlessly. In this way, he is the architype of the global Armenian: a person who enriches the Armenian community by making an indelible mark on the world outside it, a person whose far-reaching successes invigorate and strengthen the Armenian community," said Serj Tankian, who presented an overview of Avakian's career.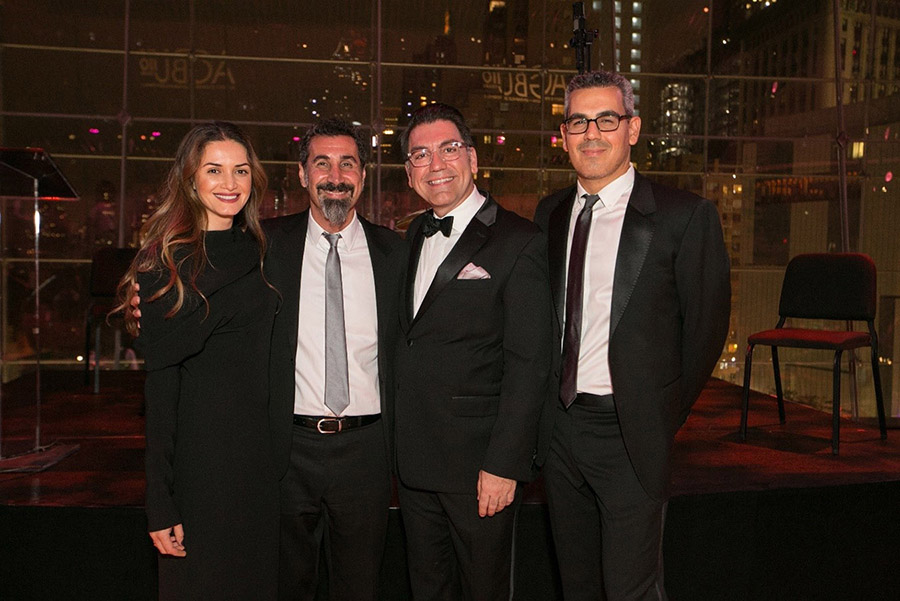 AGBU Central Board members Ani Manoukian, who orchestrated the AGBU 110th Anniversary events, and Sarkis Jebejian then recognized four inspiration individuals—Michael Aram, Nigol Koulajian, Sheila Paylan and Serj Tankian—with awards from the AGBU Central Board for their tremendous professional accomplishments, elevating pride in being Armenian as well as the collective profile of the Armenian people as a nation.
Michael Aram (Wolohojian) is an Armenian American artist and designer. His tableware, sculpture, jewelry, lighting and furniture is sold in over 70 countries and have taken Armenian themes into the mainstream, embracing his Armenian identity in the international design world. The broad diversity of Aram's creative expression is a testament to his versatility as an artist who bridges the gap between artist and artisan as well as fine and applied art. His commitment to the Armenian community knows no bounds as he offers his personal time and gifts of appreciation to countless organizations.
Aram was followed by Nigol Koulajian, the founder and chief investment officer of the investment firm Quest Partners LLC. Koulajian earned a master's degree in business administration in finance from Columbia Business School and a bachelor's degree in electrical engineering from the University of Notre Dame. He has been designing and trading short-term and long-term technical systems for over 22 years. He is also a generous benefactor of AGBU, who represents a new generation of donors and shines as an example of how philanthropy should not be viewed as something that is left to others.
Next was Sheila Paylan, a legal officer for the United Nations Mechanism for International Criminal Tribunals in The Hague, The Netherlands. Before assuming her current position, Paylan was part of the Khmer Rouge Tribunal in Cambodia after working on the Rwandan Genocide and former Yugoslavian War Crimes Tribunal in Tanzania and The Hague. Fluent in Armenian, English, French, Italian, Spanish and Turkish, Paylan—a Camp Nubar alumna—has made it her life's work to promote justice across the globe, motived by her Armenian heritage.
Serj Tankian, a singer, songwriter and activist, was also acknowledged by the AGBU Central Board as an inspiring global Armenian in the music industry, empowering young Armenians and bringing hope to them through his work. In addition to being the lead singer and co-songwriter of the Grammy Award-winning rock band System of a Down, Tankian also co-founded the non-profit Axis of Justice, which strives to fight for social justice.
The evening also paid surprise tribute to AGBU President Berge Setrakian, who was saluted for his tireless commitment to the organization. A lifelong active member of AGBU, Setrakian has served the organization in various leadership positions, first in Lebanon, and then in the United States, where he settled in 1976. In 1977, he was elected to the Central Board of Directors, the youngest to be elected, and served as secretary and vice president at various points until his election to the presidency in 2002.
"He is probably one of the most effective and objective and one of the strongest advocates and partners for the global Armenian nation: Armenia, Nagorno-Karabakh and the many diasporas that make up what we consider the diaspora, but we are really one entity. He has transformed the vision of AGBU to reflect the needs of that evolving global Armenian nation," said AGBU Central Board member Arda Haratunian in one of the two tribute videos debuted during the gala celebration in which AGBU Central Board members reflected on Setrakian as a friend and as a leader. "He has understood and realized that Armenia should be at the center of the diaspora, that it is not just a sideshow. He has understood that Armenia could anchor our culture and anchor our community," said AGBU Central Board member Joseph Oughourlian.
In addition to the tribute videos, AGBU Central Board members Yervant Demirjian and Levon Nazarian gave the guests insight into the personal side of Mr. Setrakian with a humorous presentation that touched upon his childhood and young adulthood as well as his roles as father and grandfather.
Setrakian ended the night in gratitude for AGBU and with hope in the future of a strong Armenian nation: "Our dream is to see a secure, prosperous Armenia, a successful Armenia that brings pride to our new generations in Armenia and the diaspora. My hope is that in my lifetime we will see that dream come true, because having an independent Armenia is a great joy, but keeping and making it prosperous is where the challenge is. AGBU, like many other Armenian organizations, will work to make this dream come true and with your help, AGBU will keep prospering. Now one of our duties is to bring everyone together and create this global Armenian nation."
Kim Bardakian, an AGBU New York Summer Internship Program (NYSIP) alumna and the Director of Media Relations for the Kapor Center for Social Impact in Oakland, California, served as the master of ceremonies for the evening and entertainment was provided by the David Ostwald's Louis Armstrong Eternity Band. The gala was co-chaired by Nila Festekjian and Claudia Nazarian.