YEREVAN — The opening of the statues of the legendary "Ararat-73" football team players was unveiled in Yerevan on Monday.
The ceremony was attended by Mayor of Yerevan Taron Margaryan, President of the National Olympic Committee Gagik Tsarukyan, Armenian Minister of Sport and Youth Affairs Hrachya Rostomyan and members of Ararat-73 team.
Team forward Levon Ishtoyan stated "I am really impressed. I would like to express my gratitude to Gagik Tsarukyan who supported the construction of this beautiful statue. This statue isn't only about our victory, the next generation kids will want and will strive to become world and Olympic Champions".
The architect of the statue is Tigran Barseghyan, and Armen Samvelyan led the sculptors' group. The statue is placed in the vicinity of "Hrazdan" stadium.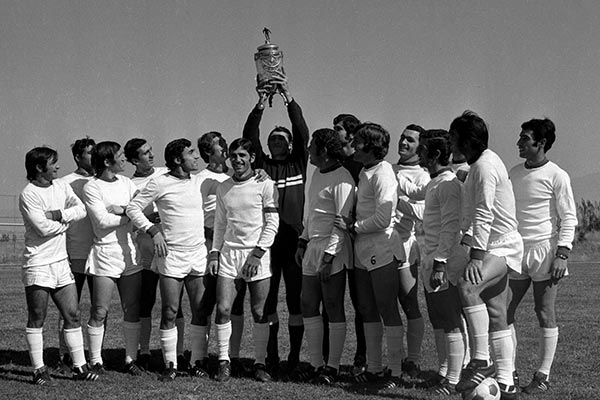 In 1973 Ararat team simultaneously became the USSR champion and won the USSR Cup. Ararat team included: coach Nikita Simonyan, goalkeeper Alyosha Abrahamyan, defenders Alexander Kovalenko, Norayr Mesropyan, Armen Sargsyan, Sanasar Gevorgyan, Suren Martirosyan, Arkady Harutyunyan, midfielders Arkady Andreasyan, Sergey Bondarenko, Hovhannes Zanazanyan, Sergey Poghosyan, forwards Eduard Markarov, Levon Ishtoyan, Nikolay Ghazaryan, Nazar Petrosyan.