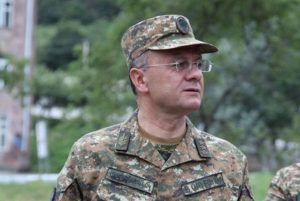 YEREVAN (RFE/RL) — Russia has begun supplying Armenia with new weapons in line with multi-million dollar defense contracts signed by the two allied states, Defense Minister Seyran Ohanian said on Tuesday.
The Armenian government is to pay for them with a $200 million loan that was allocated by Moscow a year ago.
The government moved to speed up the deal's implementation following four-day hostilities around Nagorno-Karabakh that broke out in early April. It instructed the Armenian Defense Ministry to promptly negotiate supply contracts with relevant Russian government agencies.
"Almost all of the contracts have been signed and interstate procedures [for their implementation] completed," Ohanian told reporters after inspecting Armenian troops stationed along the heavily militarized border with Azerbaijan.
"Through existing instruments and within the framework of agreements reached in the past, imports of [Russian] weapons are now in progress," he said, speaking in the northern Tavush province.
In late June, two of Ohanian's deputies visited Moscow for talks with senior officials from Russia's Defense Ministry, a Russian government agency overseeing arms deals with foreign states and Rosoboronexport, the state arms exporter.
Ohanian did not specify the types or quantities of weapons which Armenia will buy at domestic Russian prices set well below international market-based levels.
In February, Moscow released a long list of Russian-made weaponry covered by the $200 million. It includes the Smerch multiple-launch rocket system, TOS-1A heavy flamethrower using thermobaric rockets, anti-tank weapons and shoulder-fired surface-to-air missiles.
In recent years, Russia has reportedly sold 18 Smerch launchers and as many TOS-1A systems to Azerbaijan along with more than 100 T-90 tanks, over 30 combat helicopters and other offensive weapons. The Russian arms deliveries to Armenia's arch-foe, worth at least $4 billion, stemmed from contracts signed in 2010-2011.
Armenian leaders stepped up their criticism of the Russian arms sales to Baku following the April escalation of the Karabakh conflict. The Russians dismissed it, saying that they provide weapons to both Armenia and Azerbaijan and thereby sustain the "military balance" in the conflict. The Russian ambassador to Azerbaijan said last month that Moscow intends to sign fresh defense contracts with Baku.
Ohanian on Tuesday defended Armenia's military alliance with Russia, insisting that the latter would defend the South Caucasus state in case of a foreign "aggression."
Moscow and Yerevan also negotiated last year on the delivery of Russian Iskander missiles to the Armenian army. With a firing range of up to 500 kilometers, the sophisticated systems would make Azerbaijan's vital oil and gas infrastructure even more vulnerable to Armenian missile strikes in the event of a full-scale war for Karabakh.
An Armenian army general claimed in April that Armenia already has such missiles in its military arsenal. There has been no official confirmation of that claim yet.