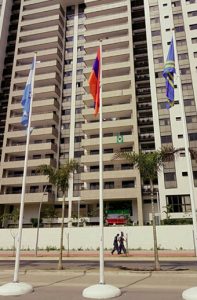 RIO DE JANEIRO — Armenian flag has been officially raised in Rio de Janeiro, the capital of 31st Olympic Games. The solemn ceremony was attended by Armenian Olympic delegation, Armenian athletes and representatives of Armenians community in Brazil, who came from different cities to support Armenian athletes.
The official opening ceremony will take place on August 5 at legendary Maracana stadium of Rio. From August 5 to August 21 and for 17 days 10,500 athletes from 205 countries will compete for a collection of 306 medals.
The Olympic Games will be held in 33 locations of four regions of Rio, Copacabana, Maracana, Deodoro and Bara.
33 athletes will represent Independent Armenia in eight Olympic sports, the most in the countries history.
Six Armenians athletes will participate in track and field events: Levon Aghasyan, Gor Nerkararyan, Gayane Chiloyan, Lilit Harutyunyan, Diana Khubeseryan and Amaliya Sharoyan.
Five boxers: Artur Hovhannisyan, Narek Abgaryan, Aram Avagyan, Hovhannes Bachkov and Vladimir Margaryan
Three artistic gymnasts – Harutyun Merdinyan, Artur Davtyan and Houry Gebeshian.
Two swimmers: Vahan Mkhitaryan and Monika Vasilyan will thus compete in the Games.
Seven weightlifters: Andranik Karapetyan, Arakel Mirzoyan, Simon Martirosyan, Ruben Aleksanyan, Gor Minasyan, Nazik Avdalyan and Sona Pogosyan, as well as Vanik Avetisyan as a reserve.
Eight wrestlers: Garnik Mnatsakanyan, David Safaryan, Georgy Ketoyev, Levan Berianidze, Migran Arutyunyan, Arsen Julfalakyan, Maksim Manukyan and Artur Aleksanyan.
One shooter: Hrachik Babayan
One judoka: Hovhannes Davtyan.
The Armenian Olympic delegation is comprised of 72 members.