YEREVAN (RFE/RL) — Prosecutor-General Gevorg Kostanian has asked Armenia's National Security Service (NSS) to look into a media report that exposed a luxury house in the United States belonging to Finance Minister Gagik Khachatrian's sons, it emerged on Thursday.
Kostanian's press office, which made the announcement, did not specify whether the NSS was specifically told to investigate Khachatrian's possible personal contribution to their enrichment and business activities.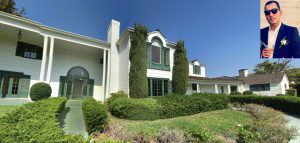 Hetq.am revealed last week that Khachatrian's sons, Gurgen and Artyom, bought the house in the Westwood neighborhood of Los Angeles for $11 million in 2010 and are now selling it for $35 million.
Khachatrian did not deny the information in a written comment to RFE/RL's Armenian service on Wednesday. He said that his sons do business "on their own" and that he will not comment on details of their operations.
The revelation came as an embarrassment for the minister in light of long-running media reports accusing him of abusing his power to enrich himself and his extended family. Khachatrian ran the State Revenue Committee (SRC), the national tax and customs service, for almost eight years, until it was separated from the Armenian Finance Ministry in March.
Khachatrian reputedly controls a host of lucrative businesses, including a major Internet, cable TV and mobile phone service provider. He has repeatedly denied owning them, however.
Hovannes Hovsepian, the current head of the SRC, on Thursday refused to be drawn on the origin of the fortunes made by the minister's sons. "I know that his sons are businessmen," he told RFE/RL's Armenian service (Azatutyun.am). "But I can't tell to what extent [their father's position] contributed to their business interests because I didn't work in the SRC during his time."
Hovsepian said that ever since he was appointed by President Serzh Sarkisian to run the tax collection agency about four months ago he has found no evidence of Khachatrian using his powers to further his relatives' business interests."I haven't come across any extraordinary case of him blatantly contributing to the enrichment of his sons," said the official.
Hovsepian, who previously headed Sarkisian's Oversight Service, himself has faced media questions about his personal wealth. According to Armenia's Commission on the Ethics of High-Ranking Officials, the current SRC chief has claimed to have received more than $3 million in cash donations in the last five years.
Hovsepian insisted that the money was donated by his wealthy brother based in Russia. "God made our family rich and I'm only proud of that," he said.