YEREVAN — A series of exciting events were organized in Yerevan recently in honor of AUA's silver jubilee. These included a special art exhibition featuring the works of 25 artists, the opening of the Entrepreneurship and Product Innovation Center (EPIC) along with a conference reflective of AUA's role in entrepreneurship and innovation, a concert and awards ceremony at the Aram Khachaturian Grand Concert Hall, and an elegant gala dinner at Florence Restaurant.
The anniversary theme, "More Than An Education – A Commitment," was the central theme of the festivities, reflective of AUA's crucial role in providing world-class teaching, research, and service programs that prepare students and enable faculty and researchers to address the needs of Armenia and the surrounding region for sustainable development. AUA opened its doors to 101 students on the same day the Republic of Armenia was declared on September 21, 1991 and has evolved into one of the country's most esteemed institutions, successfully creating a setting that values and develops academic excellence, free inquiry, integrity, scholarship, leadership, and service to society.
The kick-off event was the "A Quarter Century. A Salute to Education" art exhibition held at AUA's Akian Gallery featuring the works of 25 artists. The exhibit, a joint collaboration with the Antikyan Gallery, reflected the diversity of media, styles and narratives of the Armenian nation. Proceeds from the sale of the artwork supported the University's liberal arts education programs.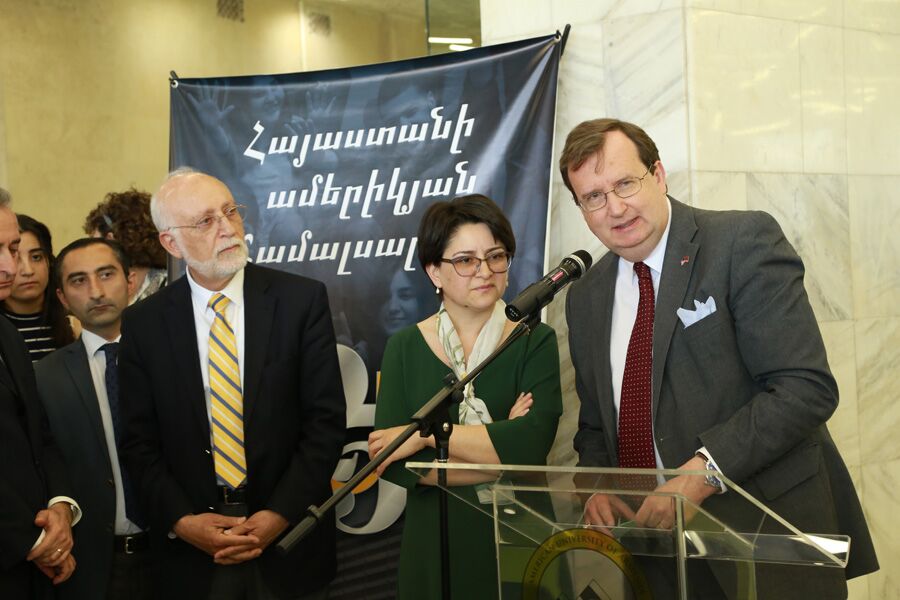 The opening of the newly renovated state-of-the-art AUA Entrepreneurship and Product Innovation Center (EPIC) was also a highlight of the celebrations. EPIC will serve as a platform for promoting entrepreneurial education, cross disciplinary collaboration, and startup incubation at AUA. Congratulatory remarks were delivered by U.S. Ambassador to Armenia Richard M. Mills. EPIC's opening was preceded by a special conference aimed at exploring Armenia's technology and innovation capabilities, as well as challenges and opportunities for collaboration. The conference also examined AUA's role in developing Armenia's entrepreneurial ecosystem and EPIC's future goals in this sphere.
Later that evening, guests attended a special Gala Concert held at the Aram Khachaturian Grand Concert Hall. Awe-inspiring performances were delivered by the Hover State Chamber Choir and the Armenian National Philharmonic Orchestra. The evening, emceed by Armen Amiryan, also showcased a presentation of awards and decorations in honor of individuals who have supported the University. The civil decorations are bestowed by the Armenian Government for acts of accomplishment benefiting the Armenian nation as a whole.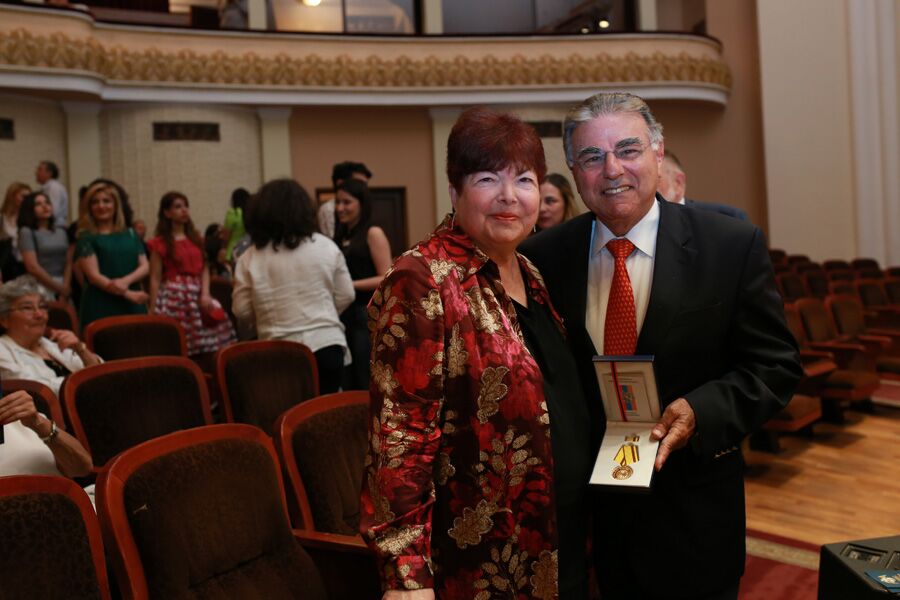 A Medal of Gratitude was awarded to Zaven Akian, a member of the AUA Board of Trustees, benefactor of the AUA Akian Gallery and sponsor of 200 scholarships to AUA students. A second Medal of Gratitude was awarded to Tom Samuelian, Dean of the AUA College of Humanities and Social Sciences. The Medal of Gratitude is in recognition of an individual's efforts in state, economic, social, scientific-technical and public activities, as well as significant contributions aimed at developing the health, education and culture spheres.
The Movses Khorenatsi Medal, awarded for outstanding achievements in the spheres of culture, art, literature, education, social sciences, and sports, was bestowed upon Chairman of AUA's Board of Trustees Dr. Lawrence H. Pitts and Assistant Vice President Anahit Ordyan. Commemorative Medals were also awarded to AUA benefactors Berj Kalaidjian of Monaco and Zaruhy Chitjian of Los Angeles in honor of their significant contributions to education and science. The Ministry of Education and Science of the Republic of Armenia also conferred a Gold Commemorative Medal to Director of the AGBU Papazian Library Satenik (Bella) Avagyan. Prestigious Gold Medals were also awarded to Director of Financial Services and Chief Accountant Mnatsakan Mkrtchyan, and Registrar Chaghig Arzrouni-Chahinian.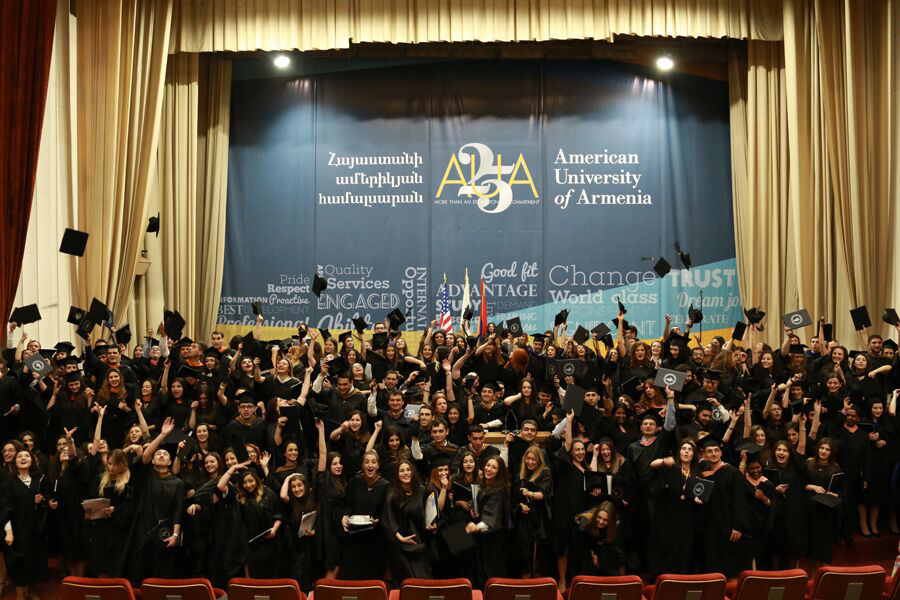 The following day, AUA celebrated the graduating class of 2016 with a commencement ceremony led by AUA President Dr. Armen Der Kiureghian. A highlight of the ceremony was a speech delivered by one of this year's valedictorians – Setrag Hovsepian. Setrag, originally from Damascus, is a recipient of the Akian Family Foundation Scholarship, along with several other Syrian-Armenian students enrolled at AUA. Footage of Setrag's touching speech describing how this was the first time in his life he had the opportunity to take part in a graduation ceremony went viral on the internet.
AUA's 25th anniversary celebrations in Yerevan concluded with a memorable Gala dinner where AUA faculty, staff, alumni, benefactors, and board of trustees from all over the world gathered to celebrate AUA's achievements.
AUA 25th anniversary celebrations will also be organized in Los Angeles with a special Gala being held at the Beverly Wilshire Hotel on November 19. Longtime AUA benefactors Dr. Mihran  & Mrs. Elizabeth Agbabian will be among those being honored for their ongoing generosity and commitment to the University. The evening's keynote speaker will be entrepreneur/philanthropist Ruben Vardanayn. An exclusive clip previewing the upcoming film "The Promise" (directed by Terry George and starring Christian Bale, Oscar Isaac and Charlotte Le Bon) will also be shown. Please contact Lorraine Alexander at [email protected] for sponsorships and ticket