YEREVAN (RFE/RL) — Two of the opposition gunmen locked in a standoff with the Armenian authorities were wounded by security forces early on Tuesday in a shootout that happened just outside a police station seized by them on July 17.
Both men surrendered to the Armenian police and were hospitalized shortly afterwards.
A police statement said that security forces opened fire when a police SUV driven by one of the gunmen unexpectedly emerged from the seized police premises and approached a police cordon about 100 meters away.
"The vehicle almost reached the cordon, after which law-enforcers fired on its engine and tires in order to stop the car and stave off a serious danger emanating from three armed men seated inside it," said the statement. Two of them were wounded in the leg as a result, it said.
Video of the incident separately circulated by the police shows the car's visibly wounded driver running back towards the police station. Another gunman can be seen dragging away the second wounded man.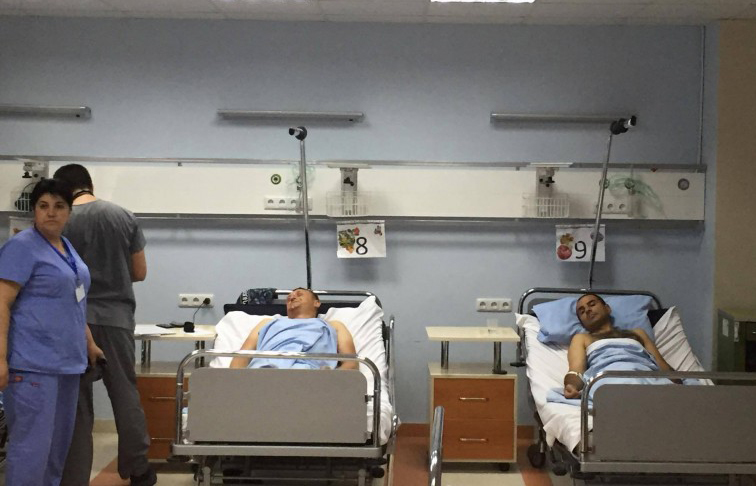 According to the police statement, the two gunmen subsequently gave up themselves before being taken to the nearest hospital in Yerevan. Hospital officials confirmed that the men identified as Ashot Petrosian and Hovannes Harutiunian are undergoing medical treatment there.
Founding Parliament, a radical opposition group with which the 30 or so gunmen are affiliated, confirmed the shootout later in the morning. But it gave no details.
The police video shows that the police car carrying the three gunmen had a white flag attached to it.
The incident occurred a couple of hours after the gunmen demanding the release of Founding Parliament's arrested leader, Jirayr Sefilian, and President Serzh Sarkisian's resignation burned down three more police vehicles seized by them. Founding Parliament representatives suggested that this was done in protest against the authorities' decision to stop food supplies to them and cut off electricity to the compounding occupied by them.
Founding Parliament and several other small opposition groups gave the authorities until Tuesday morning to end the food blockade as they rallied supporters in Yerevan on Monday evening. A group of their activists tried unsuccessfully to deliver food to the besieged gunmen after the deadline expired. They were turned away by riot police officers blocking a street leading to the seized compound.
In a statement, Founding Parliament claimed that two hours before that failed attempt an opposition supporter managed to get through police cordons and transport food to the gunmen in his personal car. The police did not immediately confirm or deny this.