YEREVAN (Mediamax) — Chief of Aviation Department of Armenian Defense Ministry, Major-General Avetik Muradyan presented documents of the crew of the Azerbaijani helicopter downed in Southern-Eastern area of NKR at 12:10 on April 2.
The downed MI 24G was a modernized model of Russian MI 24, modernized in the Republic of South Africa and equipped with guided projectiles in Ukraine.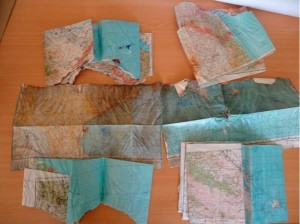 Crew's map marks 9 targets on the territory of NKR, which are 3-10 km deep behind the Line of Contact. According to the map, the farthest target was in the South-East of Fizuli town, where Azerbaijan believed Armenian missiles and artillery weaponry were located, supposed to be hit in the first phase of the military actions.
According to Avetik Muradyan, the given targets were to be hit in order. The primary task was to go deep behind the front line by 1 km and by 10 km later for troops on the ground, whose advance would make it possible to use air forces as well to strike the targets.
According to the deciphered flight recorder, MI 24G pilot was very tense during the flight and didn't use the anti-tank and unguided anti-personnel weapons he had, instead only using projectiles with optimal shooting range of 1 km.
"The pilot was shot down by our soldiers, while still pressing the button," noted Avetik Muradyan.
Touching upon the second Azerbaijani helicopter downed by the Armenian side, Mi-8, Avetik Muradyan observed that most likely it was supposed to take the surrounded diversion group out of the area or assist it by delivering Special Forces.
"Mi-8 helicopter was hit on the territory of NKR, having trespassed our border by 500 m, then returned to Azerbaijani side and crash landed around 500-700 m away from the front line," said Major-General.