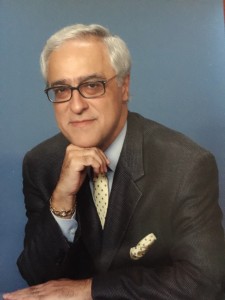 Enger Dr. Vicken Gulvartian was an individual that did not seek the spotlight, yet was instrumental and influential to many Armenians in Southern California.  He was born in Beirut in 1956, to Dr. Asadour and Sonia Gulvartian, and moved to the United States at a young age.
I knew him as a family friend, and through his activities in the Social Democrat Hunchakian Party.  Having been a long time member, Enger Dr. Gulvartian, like his father before him, was instrumental in teaching the Hunchakian Youth Party structure and ideology.
Dr. Gulvartian joined the ranks of the Social Democrat Hunchakian Party in 1986. He also served as chairman of the S.D.H.P's Gaidz Youth Organization and edited its organ Eridasartagan Tsayn, contributed to Massis Weekly, and MassisPost.com. Through these activities, along with his commitment to the A.G.B.U Manoogian-Demirdjian School, Enger Dr. Gulvartian taught many young Armenian Americans how to be great Armenians, to work hard serving the community, to harmonize one's own effort without losing one's individualism in making a difference for the Armenian cause for justice. He inspired many in political thought and methodology, thinking outside the box; he was a role model for others to do the same, all along living a full life of patriotic service.
I had the honor of working with him on a few historical projects; most recently as committee members of the Social Democrat Hunchakian Party's Academic Conference to Mark the 125th anniversary of the S.D.H.P.  The last time I saw him, we discussed the Party's ongoing efforts to digitize historical Party material (books, newspapers, and party documents). He was enthusiastic and entrusted me with his father's 100 plus year old collection of old Hunchakian newspapers.
He was also extremely adamant on the Party maintaining its ideological purity in regards to Armenia, the Armenian government, and the Armenian Diaspora, emphasizing that Hunchaks are humanitarians thanks to the principles of the ideology of their affiliation, having a positive point-of-view on society and a caring disposition towards people.
Enger Gulvartian, was also a very proud family man. Talking to him one could tell he was exceptionally delighted that both of his children, Nar and Lar, not only exceeded academically, but continued in his footsteps in pursuing justice for the Armenian cause.
Truly, the Armenian Diaspora lost a silent champion who dedicated his life in serving without any high profile recognitions or looking for rewards in return for all the things he did. Enger Gulvartian will truly be missed.
Enger Dr. Gulvartian is survived by his wife Lucy Gulvartian, his children Nar and Lar Gulvartian, his mother Sonia Gulvartian, and his sister and brother in law; Mania and Robert Arshagouni. Memorial Service for Dr. Vicken Gulvartian is on Wednesday, February 17, at 1:00 pm, St. Peter's Armenian Apostolic Church, Van Nuys, CA.
In lieu of flowers,contributions may be made to the "Jinishian Memorial Program, c/o Dr. Vicken Gulvartian Memorial Fund, 381 Park Avenue South, Ste 617, New York, NY 10016-8806"
Sev.Khatch.