PARIS — The annual dinner of the Coordination Council of Armenian Organizations in France was held on January 28 in Paris's l'Hôtel du Collectionneur. The event was attended by French President Francois Hollande, the Mayor of Paris Anne Hidalgo, the world-famous Armenian singer, Armenia's ambassador to Switzerland Charles Aznavour, as well as French-Armenian public and political figures.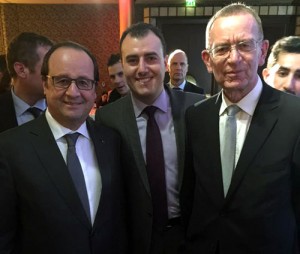 In his speech, Hollande said that he had confided to M. Jean-Paul Costa, former President of the European Court of Human Rights, the mission "to look into our law in a solid, indisputable way to allow to protect the memory of the Armenian Genocide". The French president added that Jean-Paul Costa will find all the guarantees in short period thereafter to prevent any legal disagreement related to the law.
François Hollande reflected on the failure of a similar draft law in France in 2012, and noted that in this case, the bill needs to be invulnerable in terms of constitutionality. He added that a law that could be condemned by the European Court of human Rights would be "a terrible defeat for France and the Armenian Cause.
The French President also assured the initiative had "nothing to do with future elections." "The challenge is to reconcile," he said, noting that "Armenia as Turkey will always find France at their side to help them advance on the path of dialogue."
Dîner annuel du Conseil de Coordination des…
by elysee