GYUMRI (Armenianow) — Valery Permyakov, a 19-year-old conscript at Russia's military base in Gyumri, stood before an Armenian court in the territory of the base on Friday on charges of murdering a seven-member Armenian family in the northwestern city earlier this year.
The murders of the Avetisyan family, including a two-year-old girl and a six-month-old boy, sparked angry protests in Gyumri in January as people demanded Permyakov's immediate handover to Armenian justice. Russia did not unambiguously agree to an Armenian trial of the alleged murderer until last June, but said it would still take place in the territory of the base where Permyakov has been held since his arrest.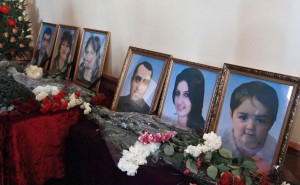 In August Permyakov was already tried by Russia's military court and sentenced to 10 years in prison on desertion and arms and ammunition stealing charges. He faces up to a life sentence under the indictment of the Armenian court.
During the preliminary investigation Permyakov admitted to murder charges, but his motives still remain unclear.
At the start of the Armenian trial held in the premises of the Russian garrison military court Artur Sakunts, a prominent human rights activist representing the legal successors of the Avetisyan family, raised the question of the presence of Russian military men in the chamber, but the Armenian judge presiding over the trial rejected the petition on their removal, explaining that they ensured the defendant's security.
Armenian lawyers representing the Avetisyan family's relatives also made complaints about the general conditions in which the proceedings took place, with low audibility and little room for lawyers, media and members of the public. They raised the issue of moving the trial to the lower court of the Shirak province.
At the request of the defense attorneys to provide them with time to get familiarized with the case files, the judge adjourned the trial till January 18, without considering the question of moving the proceedings to another location.