YEREVAN (ARMENPRESS) — NATO Week kicked off in Armenia with the opening of photo exhibition featuring Armenian peacekeepers involved in NATO operations in Kosovo and Afghanistan.
The exhibition opened at the Yerevan State University's Sarkis and Marie Izmirlian Library and was organized by the Information Center on NATO in Armenia with the support of the NATO Public Diplomacy Division and Armenian Defense Ministry.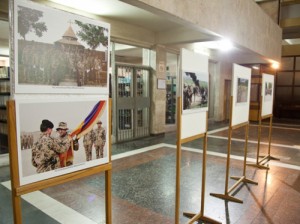 Representatives of NATO and Armenian Foreign Ministry, NATO member states' ambassadors and embassies' associates attended the opening of the exhibition.
"It's very important for people to see our military servicemen taking part in international peacekeeping operations. The photos captured our peacekeepers during the service and exercises as well as at their leisure", head of Information Center on NATO Ara Tadevosian said.
Head of Department of Arms Control and International Security of the Armenian Foreign Ministry Samvel Mkrtchian noted that Armenian peacekeepers' involvement in NATO's peacekeeping missions is one of the key components of NATO-Armenia cooperation.
"International security and continuously emerging crises require all the sides' involvement. In this regard, Armenia's participation in peacekeeping actions in Kosovo and Afghanistan has always been hailed by NATO and our international partners", said Samvel Mkrtchian.
According to him, Armenia is ready to join a United Nations peacekeeping mission in Mali and thereby expand its participation in multinational military operations around the world.
"The next [deployment] should presumably be in Mali seeing as we already have one staff officer there," embedded with the UN Multidimensional Integrated Stabilization Mission in Mali (MINUSMA), Mkrtchian told journalists.
"We are currently continuing negotiations with the UN and other partners in order to identify the area and have the capacity that would enable us to participate in other operations," he said.
"Collaboration with such partners as Armenia is one of NATO's key goals in terms of ensuring stability and security in the Euro-Atlantic area. We are proud to be working with such a country as Armenia. Armenian peacekeepers are marked with high professionalism. Representatives of NATO member states have constantly noted that they are very proud of working with them", said NATO Liaison Officer in the South Caucasus William Lahue.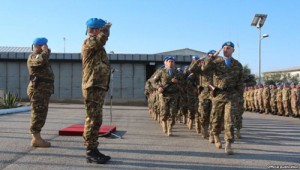 A total of 123 Armenian soldiers are currently serving in NATO-led missions in Afghanistan and Kosovo as well as at the UN Interim Force in Lebanon (UNIFIL). Earlier this year, the Armenian military expressed readiness to step up its participation in the UNFIL which is led by NATO member Italy.