STOCKHOLM — The exhibition "Armin T. Wegner: eyewitness of the Armenian Genocide" was opened at the Armémuseum of Stockholm on August 25, which showcased around thirty photos taken by Wegner with author's notes and explanations.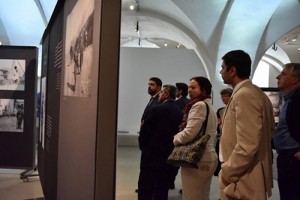 The exhibition was organized by joint efforts of the Embassy of Armenia in Sweden, the Armémuseum, and armenica.org organization as part of the Armenian Genocide Centennial Commemoration events in Sweden. During the year, the Swedish annotated edition of the book by Armin T. Wegner "Exile of Armenians into the Desert" was also published by the efforts of the Union of Armenian Associations of Sweden.
The opening ceremony was attended by Deputy Speaker of Parliament Mr. Björn Söder, Parliamentary Group Leader of Christian Democrats Mr. Andreas Carlson, other parliamentarians, Ambassadors accredited to Sweden, social, political and cultural figures, journalists, representatives of the Armenian community. Opening remarks were given by the Director of Armémuseum Mrs. Eva-Sofie Ernstelle and historian Vahagn Avedian.
The exhibition will be open for three months.
The Armémuseum is one of the leading cultural institutions of Stockholm and is included in compulsory educational programs.
View Armin T. Wegner photo collection at ANI website