LOS ANGELES—An anonymous benefactor recently donated nearly $1.8 million to three nonprofit organizations that operate in Armenia: Armenia Tree Project (ATP), Armenian American Wellness Center (AAWC), and Armenian EyeCare Project (AECP). Each organization received one-third of the generous gift.
"Too few help Armenia," the anonymous donor said when explaining the rationale for his donation.
He spoke at length about his deceased family members, whose memory he said he wanted to honor with his generous donation, especially during the centennial year of the Armenian Genocide.
"This is not from me, but from my father, my mother, and my sister," he explained.
His last surviving family member was his older sister, Siona, who died last year, in September, in their unassuming California home. His mother, Elmas, passed away in 1982, and his father, Harry, in 1984.
Harry immigrated to the United States from Kharpert, Armenia around 1912, prior to the Armenian Genocide, and settled in Worcester, Mass. "He always sent money to his father back in Kharpert," the donor said of his father. "Then, one day, the money came back and he never heard from his family again."
Elmas, his mother, was also born in Kharpert, in 1905. Along with her sister Varter, she spent approximately five years in a Lutheran orphanage in Kharpert, becoming proficient in three languages and learning to embroider. "My mother came to the United States and within a year she began attending school," he said.
Elmas and her sister were brought to Massachusetts in 1920 after their aunt, who lived in the United States, discovered that they were alive after the Genocide.
When Harry asked for Elmas's hand in marriage, he repaid Elmas's aunt "every penny" of her travel costs to America, the donor said. Those pennies had come at a huge cost to his dad, who worked in the Worcester nickel plating factory: "At the time of my father's death, his lungs had almost disintegrated," he said.
In telling the story, he tears up, recalling that his father would give his mother only the best—the first refrigerator, the first television set, all the yarn and string she wanted to use for her embroidery—yet his mother would always mumble, in Armenian, "Yes inchou chem grnar ourakh ellal?" (Why am I unable to be happy?)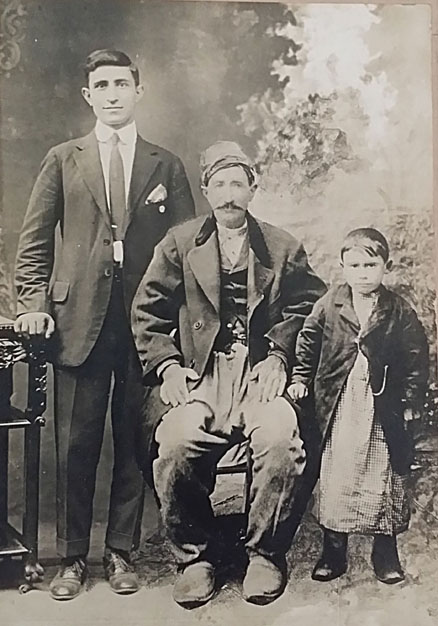 Born in Worcester, the donor was the couple's second child; Siona was two years older. While in Worcester, Siona worked for a title company. She was also a Sunday school teacher there.
He, meanwhile, served in the armed forces during World War II and was stationed in Japan. "That was the only time I left the USA. Interestingly, people are the same everywhere," he said. He attended Clark University, in Worcester, and became an accountant.
In 1972, to escape the harsh East Coast winters, the family relocated from Massachusetts to California.
After their move, Siona could not work; her brother, the anonymous donor, took care of his sister until her death. The siblings had been living in what was essentially a glorified trailer community ever since they had moved to California. "We spent every day together," he recalls.
The donor was not involved in the Armenian community, yet he knew about the Diaspora's efforts made to assist Armenia. He had read about the three nonprofits—ATP, AAWC, and AECP—and their humanitarian projects in Armenia.
As his health began deteriorating, he made the decision to distribute his family's savings to the three organizations.
Explaining his donation, he cited the Bible about giving to those in need, and added: "I have everything I need: shelter, food, and a warm bed. Now, I want to help my nation, the people of Armenia."