GYUMRI — The dead body of Ivan Novikov, a 19-year-old Russian army conscript, was found with several stab wounds in the northwestern Armenian city of Gyumri, which hosts the bulk of about 5,000 troops stationed at the 102nd Russian military base.
Colonel Aleksei Polyukhovich, a deputy commander of the Russian base, told reporters at the scene that another Russian soldier has been detained in connection with the killing. "He is now giving testimony," Polyukhovich said, refusing to reveal his identity. Later in the day, Russian media identified the suspect as Ivan Boskhomdzhiev. The Interfax news agency quoted a Russian military spokesman as saying that he has already confessed to the murder.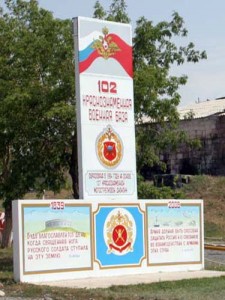 According to initial information, an argument broke among three servicemen of the military base, in which one of them was killed and another one was hospitalized. The third serviceman was handed over to law-enforcement bodies.
Investigation has been launched by Armenian law-enforcement bodies. A criminal case has been filed under Article 104 of the Criminal Code of Armenia.
The incident has taken place less than half a year ago after a seven-member family of the Avetissyans was brutally murdered in Gyumri. The Russian soldier of the Gyumri military, 19-year-old private Valeri Permyakov was charged with the murders.
In January several protests were held in Gyumri, with Armenian citizens demanding that the Russia authorities transfer Permyakov to the Armenian side. However, so far Russia has refused to do that, insisting that Permyakov be prosecuted and tried under Russian laws.