On Seventh Day Electric Yerevan Protesters Firm in Baghramian Avenue
YEREVAN — The Armenian government has refused to reverse electricity price hikes, as protest rallies in the capital entered their second week.
Defying a call by protesters to reverse a decision to hike power prices by more than 16 percent from August, Prime Minister Hovik Abrahamian told a government meeting on June 25 that authorities would proceed with the move to "ensure the country's energy security."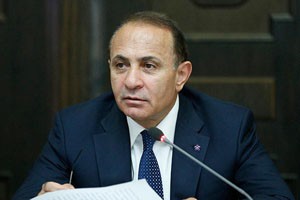 However, he told a government meeting on June 25 that the state will compensate some 105,000 low-income families for the more than 16 percent tariff increases authorized by the Public Services Regulatory Commission (PSRC) last week. Monthly poverty benefits paid to them will be raised by 2,000 drams ($4.2), he said.
The Armenian Ministry of Labor and Social Affairs estimates that the tariff hike will cost the average family living below the official poverty line only 1,400 drams in additional monthly expenditures.
Abrahamian called on protesters to unblock one of the city's main thoroughfares, Baghramian Avenue, and urged them to be "more constructive."
"I would like to appeal to our activists, organizers of those rallies and say that such actions will lead nowhere," Abrahamian said at the weekly meeting of his cabinet. "I am calling on them to be more constructive. The government is ready to discuss any issue that is being raised by them."
Abrahamian insisted that the price hike reflects "objective realities" of the Armenian energy sector. He echoed the PSRC's arguments that the Electricity Networks of Armenia (ENA) utility needs to be compensated for last year's depreciation of the Armenian dram, a longer-than-anticipated stoppage of the Metsamor nuclear plant's reactor and decreased water levels on rivers fueling hydroelectric stations.
The ENA has had to buy larger volumes of much more expensive electricity generated at Armenian thermal power plants. The company owned by a Russian energy giant currently has over $225 million in outstanding debts to power plants and banks.
Critics say, however, that the ENA's losses are the result of corruption and mismanagement. They also point to the company's extravagant expenses, including on luxury cars and office space for its senior executives, which have been disclosed by the Armenian media in recent months.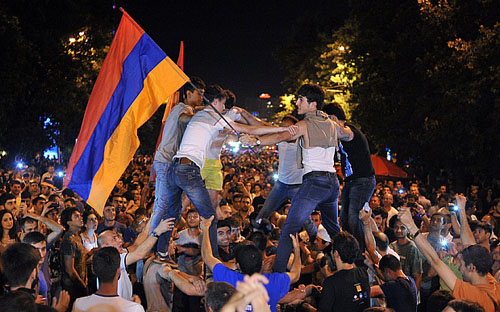 No To Plunder, a pressure group leading the protests, was quick to dismiss these statements. One of its leaders, Vaghinak Shushanian, said the protesters will not leave Marshal Bagramian Avenue until the authorities meet their demands.
"If he has so much courage, he should come here and talk to us," Shushanian told RFE/RL' Armenian service (Azatutyun.am). "Let him appear before the people here and say from the podium that … this measure is justified."