MEXICO CITY — On April 8, an exhibition entitled "Armenia – the mystery of the rocks" dedicated to the milestones of the Armenian civilization was organized at the hall of the Senate of the United Mexican States, on the initiative of Foreign Affairs Committee of the Senate of Mexico and the Embassy of Armenia in Mexico.
Ambassador of Armenia to Mexico Grigor Hovhannissian, the Ambassadors, members of the Parliament of Mexico, politicians and public figures, representatives of the Armenian community of Mexico and journalists attended the exhibition.
The exhibit was officially inaugurated by the Vice-Speaker of the Mexican Senate Jose Rosas Aispuru Torres, Chairwoman of the Senate Foreign Affairs Committee Gabriela Cuevas Barron and the Ambassador of Armenia to Mexico Grigor Hovhannissian.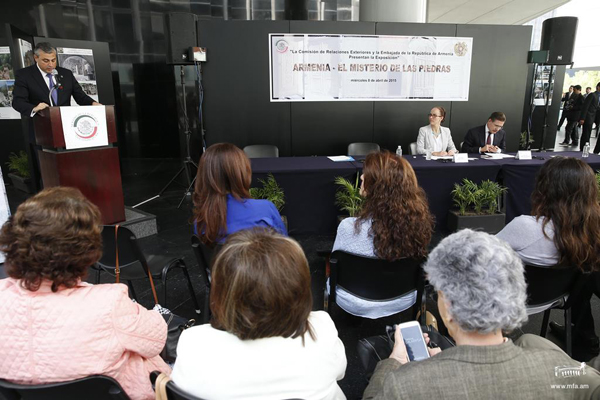 In his opening remarks, Ambassador Hovhannissian reflected on the global significance of the Armenian civilization, attached importance to the efforts of dozens of states across the Middle East, Europe and Far Asia in the preservation of Armenian cultural heritage, as well as condemned barbarism against universal cultural heritage by the Islamic State and Azerbaijan.
Senate Vice-Speaker and Senator Gabriela Cuevas Barron commended dynamics of the development of inter-parliamentary relations and reflected on Armenian cultural and spiritual values, as well as the necessity of their public recognition. The opening ceremony was concluded with a video presentation on the Armenian alphabet by Girayr Dadasyan and the footage of "Yerevan – UNESCO's world book capital" 3D mapping.