YEREVAN — Armenian Prime Minister Hovik Abrahamian received the Kardashian sisters today.
The Prime Minister praised Kim Kardashian for promoting Armenia and stressed the importance of the Kardashian family's contribution to the international recognition and condemnation of the Armenian Genocide and welcomed their visit on the threshold of the Armenian Genocide centennial.
"Hovik Abrahamian emphasized the fact that just like many Armenians scattered around the world, the Kardashians have not forgotten their roots and are making our country more recognizable with their trip to their historic homeland," read a statement released by Abrahamian's office.
Kim and Khloe thanked the Prime Minister for the welcome and said they were impressed by Armenia and the warm attitude of the Armenian people. The guests said they intend to visit different historical-cultural sites in Armenia to explore their legacy and the Motherland of their ancestors.
The sisters confessed that visiting their historic Motherland had been their long-time dream and added they're happy to be in the country of their dreams. They apologized for the failure to speak Armenian and said they're working to learn the mother tongue.
The Kardashians said they will continue to actively struggle for the international recognition and condemnation of the Armenian Genocide and emphasized the importance of the unity of all Armenians.
The famous sisters met the Armenian premier after strolling in downtown Yerevan and taking selfies with local fans. They also visited the city's Victory Park, home to a Second World War memorial, and posed for a photograph in front of Mother Armenia statue.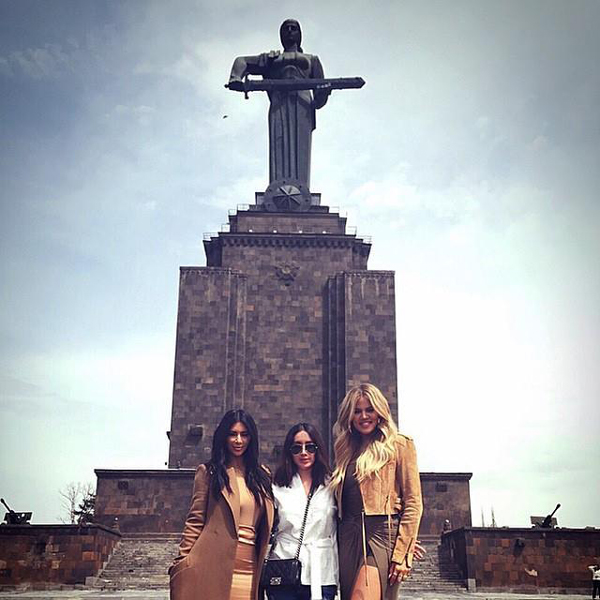 "Mother Armenia statue symbolizes peace through strength," Khloe blogged on her Instagram page afterwards. "It can remind viewers of some of the prominent female figures in Armenian history. Who took up arms to help their husbands in their clashes with Turkish troops and Kurdish irregulars. I am woman hear me roar! Blessed to be here!!!"
Kim Kardashian called her first-ever trip to Armenia a "journey of a lifetime" after arriving in Yerevan on Wednesday evening together with her husband, rapper Kanye West, and 2-year-old daughter North. "Thank [you] everyone who greeted us," she wrote on Twitter.
"I can't wait to explore our country and have some yummy food!" the 34-year-old tweeted the following morning.